By GERRY SHIH
Yesterday
BEIJING (AP) — A senior U.S. official says the United States would pursue sanctions on Chinese officials involved in a sweeping security crackdown in the western region of Xinjiang if they were deemed appropriate for designation under a law targeting human rights offenders.
Acting Deputy Assistant Secretary of State Laura Stone said Wednesday that the U.S. was deeply concerned about China's detention of at least "tens of thousands" of ethnic Uighurs and other Muslims and could take action under the 2016 Global Magnitsky Act.
Beijing has defended its crackdown as a "People's War on Terror" and a necessary move to purge separatist and religious extremist elements from Xinjiang, a vast region with more than 10 million Muslims. But an extrajudicial detention program has swept up many people, including relatives of American citizens, on ostensible offenses ranging from accessing foreign websites to contacting overseas relatives.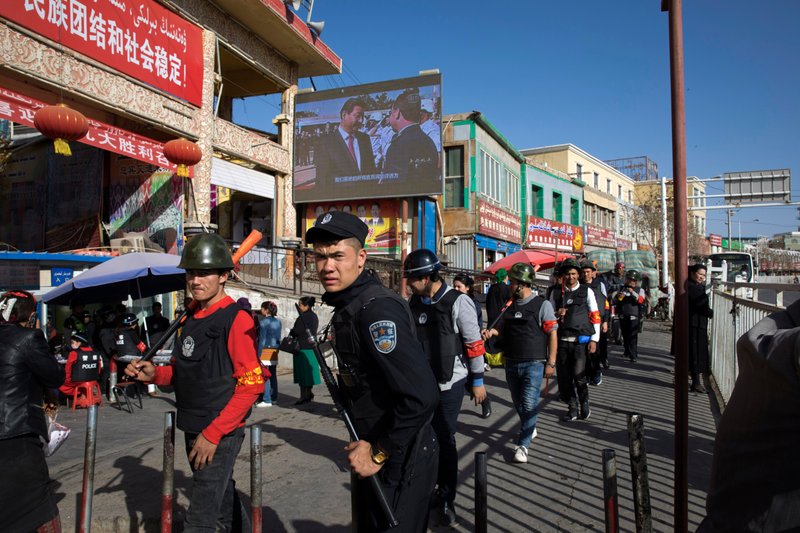 Speaking to reporters in Beijing, Stone said the U.S. was particularly concerned about the detained family members of six journalists — four U.S. citizens and two U.S. permanent residents who have reported on Xinjiang — working for Washington D.C.-based Radio Free Asia.
"The information we have, including about detention centers, paints a disturbing picture," Stone said. "We will continue to raise our concerns with the Chinese government and call for legal due process in the detention of any citizens."
Xinjiang authorities have established a network of detention centers operating seemingly without legal basis. Rights groups estimate such centers are holding at least tens of thousands of people who receive so-called political education for indefinite periods. It is just one element in a far-reaching security regime credited to Chen Quanguo, the Communist Party official previously placed in charge of Tibet. Other aspects of the campaign include all-encompassing digital surveillance , mass deployment of police and severe regulations against religious customs and dress.
U.S. lawmakers raised the possibility of Magnitsky Act sanctions this month, signaling growing concern in Washington over alleged human rights abuses in Xinjiang. Republican leaders of the Congressional-Executive Commission on China, Sen. Marco Rubio of Florida and Rep. Christopher H. Smith of New Jersey, asked the U.S. ambassador to Beijing, Terry Branstad, to visit the region and collect information on Xinjiang officials responsible for the mass detention policy.
The Global Magnitsky Act allows the U.S. government to place travel and financial restrictions on individuals anywhere in the world given credible proof of their role in human rights violations or corruption. For the first time in December, U.S. authorities designated 52 people under the act, including a Myanmar general allegedly involved in the deadly crackdown on Rohingya Muslims and a Chinese police official who oversaw the Beijing detention center that held Cao Shunli, a human rights activist who died in custody.
Under the sanctions, which empower the Treasury Department to target officials anywhere for human rights violations and corruption, the U.S. assets of listed individuals will be frozen and they will not be allowed to do business with U.S. banks.
Chinese foreign ministry spokeswoman Hua Chunying on Wednesday warned the U.S. against "interference in any form and groundless accusation on China's internal affairs."
Members of all ethnic groups in Xinjiang "live and work in peace and enjoy development and tranquility," Hua said.
---
ChinaAid Media Team
Cell: +1 (432) 553-1080 | Office: +1 (432) 689-6985 | Other: +1 (888) 889-7757
Email: [email protected]
For more information, click here