BBC News
By Juliana Liu Hong Kong correspondent, BBC News
22 July 2015
Few things frighten Philip Woo, a pastor and missionary based in Hong Kong. The Lutheran has been spreading his faith among underground churches in mainland China for 25 years.
But since 2013, he has also been engaging in a supposedly less risky activity: organising religious training for Chinese church leaders in the former British colony.
For that, he was summoned to the religious affairs bureau of a district in the southern city of Shenzhen on 1 July, the same day that China enacted a sweeping national security law.
"I was surprised to get the call," says the 63-year-old. "I had been verbally warned before. That was expected. But this is different. I'm now afraid for my safety when I'm in China."


'Dangerous precedent'
At the meeting, the pastor was accused of breaking Chinese law by advertising religious courses to mainlanders on his ministry's Hong Kong-based website.
He was also verbally instructed to stop preaching to mainland students in Hong Kong.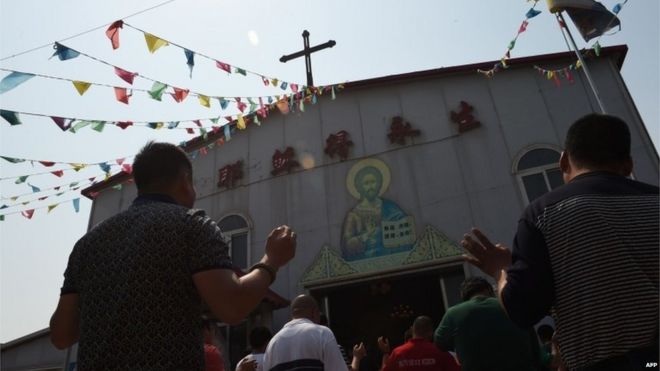 China has restricted the use of crosses outside Protestant and
Catholic churches in some provinces
Although Mr Woo believes he broke no law in the special administrative region, where residents can worship freely, he agreed to sign an official document acknowledging his guilt, in order to protect colleagues who live in China full-time.
Bob Fu, president of the US-based China Aid Association, calls the incident "extraordinary".
"This is very, very unusual," says the China-born Christian pastor. "This is the first time I have ever heard of a Chinese religious authority issuing a letter, with a stamp, to a church leader in Hong Kong."
"It is an escalation of mainland China's assertiveness over Hong Kong activists. It certainly sets a dangerous precedent."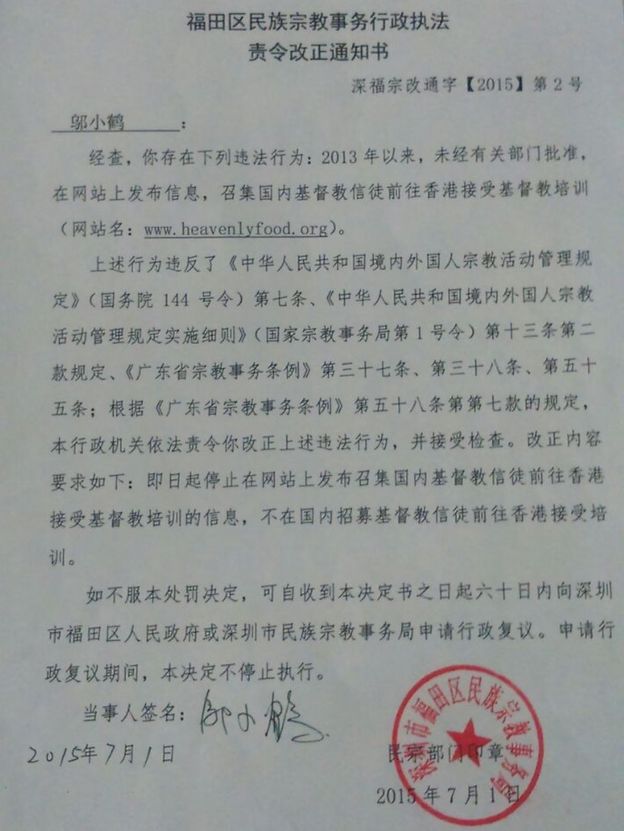 An official letter has made other evangelists in
Hong Kong nervous about their activities in China
Mr Fu, who is best known for advocating on behalf of blind campaigner Chen Guangcheng, says there appears to be a link between the written warning issued to the pastor and a rising number of church closures in Guangdong province, where Shenzhen is located.
According to China Aid, authorities in the province, which borders Hong Kong, have closed, raided or warned more than a dozen unofficial Protestant churches and schools since April.
One of them, the Guangfu House church based in Guangzhou, is trying to sue the government over the forced closure.
Its pastor, Ma Chao, says he has direct knowledge of more than 20 churches in Guangdong that have been asked to close.
He estimates hundreds more churches in the province have received similar orders.
Three Christian schools, including a licensed kindergarten, have also been targeted, he says.


Tough provinces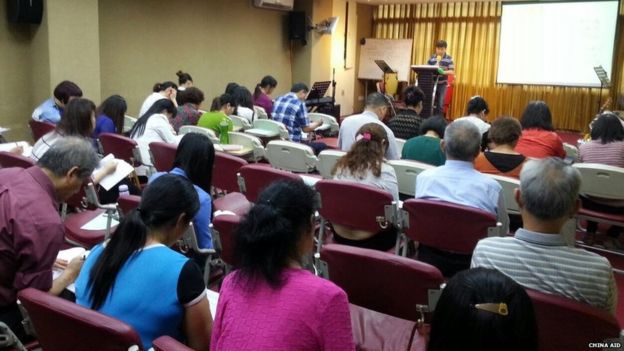 The Guangfu House Church was among those forced to shut down
Previously, Guangdong officials had taken a relatively relaxed view of so-called "house churches", whose members often worship in private homes.
They run independently of the state-sanctioned Three-self Church and China Christian Council, both Protestant groups, and the Chinese Patriotic Catholic Church.
In 2010, the country had some 58 million Protestants and about nine million Catholics in both official and unofficial churches – this was the most recent year for which data is available, according to the Pew Research Centre.
Mr Fu says restrictions on house churches may be lax or tight, depending on their location and the attitudes of local leaders.
Tough provinces include Tibet, Xinjiang, Henan, Guangxi and Anhui.
More relaxed regions include Fujian, Shandong, Hebei and until recently, Guangdong.


History of Hong Kong evangelism in China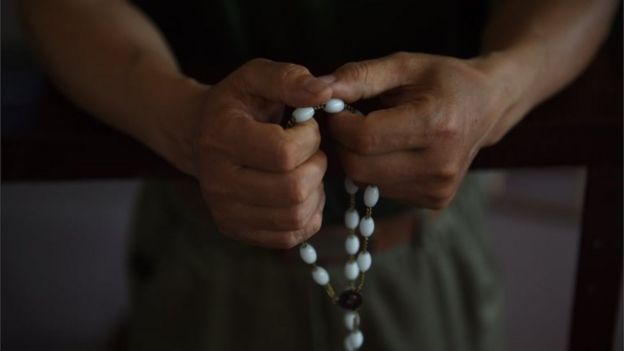 South China has been a base for Christian evangelism since the early 1800s

Robert Morrison of the London Missionary Society was the first Protestant preacher in China

He arrived in then Portuguese-controlled Macau in 1807, before basing himself in Guangzhou for decades

After Hong Kong was founded in 1842, he moved the Anglo-Chinese School, now known as Ying Wa College, there in order to train British and Chinese missionaries

Government figures estimate the city to have a population of seven million people, with about 480,000 Protestants and some 374,000 Catholics, including many of the territory's elites

In the present day, it continues to be a hotbed of Christian evangelism to China, especially as greater integration since the 1997 handover has simplified travel
A 2014 survey of more than 1,000 Protestant churches in Hong Kong by the Hong Kong Church Renewal Movement gives some insight into their activities.
More than 60% of them have organised exchanges with mainland churches at some point in the past three years.
Of those exchanges, about 40% were visits, 28% involved religious teaching and training, and 23% included preaching.
Organisations headed by overseas Chinese have also regularly conducted training in Hong Kong for leaders of official and unofficial churches in China.
In March, more than 1,000 people, most of them from the mainland, came to Hong Kong for several days of intense religious training.
Verbal warnings
Another 100 people reportedly tried to come but were blocked by Chinese authorities, according to China Aid.
A Hong Kong-based pastor who had helped to organise the event says the warning issued to Mr Woo has created an atmosphere of fear among local evangelicals working in China.
The pastor, who declines to be named because he organises training in a number of Chinese provinces, says even though the letter does not specify any kind of punishment for Mr Woo, it is a serious, official warning.
"I have seen the letter. I am really concerned. We are all afraid, " he admits.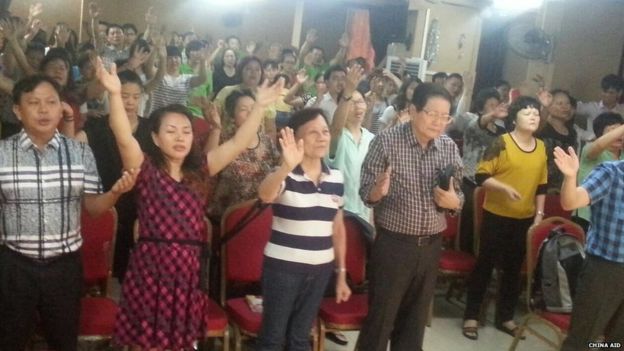 The pastor of Guangzhou-based Guangfu church believes
the order to shut down non-official churches cam from the
central government.
Previously, he says the authorities had asked middlemen to deliver more elliptical verbal warnings urging him to watch his health, or be mindful of road safety.
He believes his phone has been recently put under surveillance, and he is concerned about the safety of his elderly mother, who still lives in China.
Calls by the BBC to the religious affairs bureau of Futian district in Shenzhen have gone unanswered.
Mr Ma, pastor of Guangzhou-based Guangfu church, says he was told by a city official in May that the shutdown was part of a campaign coordinated at the provincial level.
But after comparing stories with pastors in other provinces, he believes the order to close house churches may have originally come from central government authorities in Beijing.
Mr Ma says: "We have been told that central authorities have recently issued a document to this affect."
'Chinese style' church
Their goal, he believes, is to organise the various Christian denominations under its own brand of a "Chinese style" church, approved by the Communist Party.
A crackdown on the use of crosses outside Protestant and Catholic churches, both official and unofficial, continues in the coastal province of Zhejiang.
Calls for comment by the State Administration for Religious Affairs in Beijing were unanswered.
But last year, the official China Daily quoted a top religious affairs official as saying that the country will establish a Chinese Christian theology, in line with Chinese culture.
The official, Wang Zuoan, who is director of the State Administration for Religious Affairs, did not elaborate. Church leaders say, as a result, they are feeling the heat.
Despite the warning, it is business as usual for Philip Woo, who continues to travel to China to coordinate training.
He says: "Yes I am afraid, but I have to keep doing God's work."
---
China Aid Contacts
Rachel Ritchie, English Media Director
Cell: (432) 553-1080 | Office: 1+ (888) 889-7757 | Other: (432) 689-6985
Email: [email protected]
Website: www.chinaaid.org