Christian Science Monitor
By Robert Marquand, Staff writer October 18, 2015
■ Bao Zhuoxuan, a middle school student who was caught earlier this month after escaping to Myanmar, is the son of a prominent lawyer detained in July. US officials say his case is part of a 'systematic campaign' of abuse.
Boston — "In trouble" was all the cell phone text message said. And there wasn't another.
For Zhou Fengsuo, the words hit hard. He had been waiting in Bangkok on Oct. 6 to greet Bao Zhouxuan, the 16-year old son of a prominent human rights lawyer, Wang Yu, who has been jailed and incommunicado for more than 100 days. Mr. Zhou, a US-based dissident, had planned to escort Mr. Bao to a family in San Francisco where he could live and study.
It was part of a plan both careful and daring to get the boy out via Myanmar. In July, Ms. Wang and her husband, Zhouxuan's father, disappeared as part of a sweeping crackdown on some 250 lawyers across China who take sensitive cases of political activists, feminists, and of religious persecution.
Bao never made it to Bangkok. Instead Chinese security chased him and two travelers helping him across the Myanmar border and took him from a guesthouse in Mongla where they were staying. Bao and his companions – one of whom sent the text message to Zhou – then disappeared.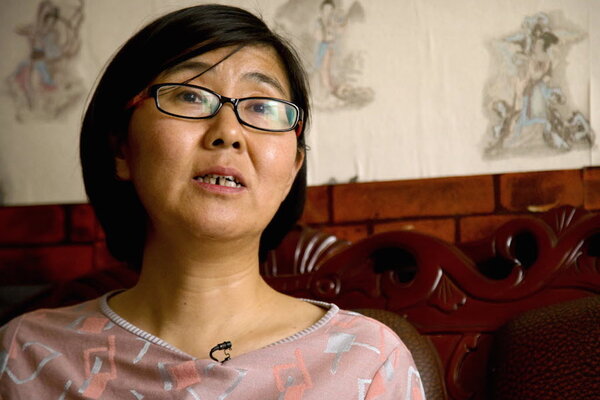 In this April 18, 2015 file photo, Wang Yu, a lawyer for
Chinese activist Li Tingling, speaks during an interview in
Beijing. The 16-year-old son of Wang Yu, a rights lawyer
detained in China's sweeping crackdown on civil society has
disappeared in Myanmar after trying to escape to the United
States, a rights campaigner involved in the plain said.

Mark Schiefelbein/AP
"Kidnapped" is the word Zhou uses in a case that has gained international attention. It appears to highlight the range of abuses meted out to those willing to challenge China's authoritarian system, including their family members.
State Department spokesperson John Kirby on Oct. 15 called for Bao Zhouxuan's "freedom of movement" and stated concern over "a seemingly systematic campaign by China to target family members of Chinese citizens who peacefully challenge official policy and work to protect the rights of others."
In Beijing on Friday, US assistant secretary of State Tom Malinowski raised the case of Wang and her son Bao. Mr. Malinowski told Chinese officials that the length of detentions and lack of access to legal council violated China's own laws.
Lawyers in the crosshairs
The July 10 crackdown on rights lawyers, referred to as "Black Friday," was the biggest of its kind in decades. Wang and her law firm, Fengrui, were among the most visible targets. State media reported that Wang and Bao Longjun, her husband, had been accused of "subversion of state power."
Bao's whereabouts after he disappeared in Myanmar on Oct. 6 were unknown until this week, when the Sydney Morning Herald reported that he was under house arrest at his grandmother's residence in Inner Mongolia.
That has brought relief to Zhou and a network of overseas friends and family, including that of Liang Bo in San Francisco, a friend of Wang, who had been preparing to host and possibly adopt Bao, who's affectionately known as "meng meng."
Ms. Liang describes him as an "honest, upright boy" who topped his middle school class and had been tutored by his parents for study abroad. Tall for his age, he loves electronic games and wants to study law.
Both parents had pushed strongly for Bao to go abroad in the event something happened to them, a desire that helped bring forth help after their arrest.
Surveillance around the clock
To protect their sources, friends of the detained teen are careful not to reveal details of how they obtain news of his situation. However, they say the boy is now living under 24-hour surveillance and that police enter the home whenever they wish. Friends and former teachers and classmates have been warned to stay away, leaving him feeling "very isolated" and "miserable" at the house of his grandmother.
The most practical issue for Bao right now is to have his passport returned, say those trying to assist him. Bao and his father were arrested at the Beijing airport in July en route to enroll him in an Australian private school. At that time, the father was arrested and Bao passport was taken away.
In a statement, the China Human Rights Lawyers Concern Group in Hong Kong said that after his father was arrested, Bao was subject to "continuous harassment, interviews, intimidation and was put under mental stress by the State Security secret police" and his household registration as well as passport were taken.
(This week authorities confiscated the passport of the minor son of another Fengrui law firm associate.)
"He's received sympathy from the committee and the general public as well that knows about his mother Wang Yu," says Zhou, who had waited for Bao in Bangkok. "She's defended feminists, religious persecution cases, Ilhem Tohti the Uighur scholar, and now her son is a hostage. It's a typical strategy in China of using families as leverage in political cases."
Zhou came to the United States in 1995 after being in prison following the Tiananmen Square democracy protest in 1989. He says that a number of overseas Chinese groups have been "appealing to the international community… our goal is for the boy to have his freedom and to be united with his parents, but we are not there yet. The situation is still fluid."
---
China Aid Contacts
Rachel Ritchie, English Media Director
Cell: (432) 553-1080 | Office: 1+ (888) 889-7757 | Other: (432) 689-6985
Email: [email protected]
Website: www.chinaaid.org