Democratic Voice of Vietnam
DVOV Editor February 22 2016
22 February 2016 – Taoyuan, Taiwan
■ A collection of international organizations, religious leaders, parliamentarians, journalists, government officials, and civil society organizes gathered in Taoyuan, Taiwan to hold the Asia Pacific Religious Freedom Forum (APRFF) to strategize to defend and protect religious freedom in the region. The forum emphasized collaborations between its diverse stakeholders and culminated in a Taiwan Declaration of Religious Freedom to be disseminated in the coming weeks.
"This was an excellent opportunity for religious communities and victims of persecution to connect with one another," says Dr. Thang Nguyen, president of Boat People SOS, who was a panel speaker at the event.
Thang, whose organization focuses on human rights issues in ASEAN adds, "Through the hard work of organizers like ChinaAid, this conference was a rare chance for people living in countries with repressive governments to not only have their stories heard but to also learn about the wider movement of freedom of religion based in the United States and elsewhere."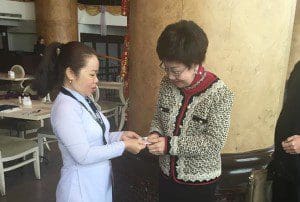 Cao Dai representative Kim Vo meets Taiwan's former
vice-president Annette Lu
One such group was the Popular Bloc of the Cao Dai Religion from Vietnam, an independent religious community who have had nearly all their properties confiscated and their sect banned by the government only to be replaced by a government set-up group.
"In 1997, [the government] created a new leadership for our religion. They appointed the leaders who are actually serving the government and not our religion," explained Cao Dai representative Kim Vo during a discussion session on advocacy strategies. "We are a small community. We have no voice we can cannot do advocacy with our government at all. Therefore, I am here to look for organizations out here to do advocacy with your own governments," she added.
The Popular Bloc of the Cao Dai religion are now considering setting up an interfaith roundtable for independent groups in Vietnam and are also hoping to join regional human rights groups and Vietnam's independent CSOs at this year's ASEAN Civil Society Conference / ASEAN People's Forum.
In total, there were 99 participants representing 26 different countries in attendance. The conference concluded with a Taiwan Declaration on Religious Freedom to finalized and released in the near future.
Learn more about the Asia Pacific Religious Freedom Forum.
---
China Aid Contacts
Rachel Ritchie, English Media Director
Cell: (432) 553-1080 | Office: 1+ (888) 889-7757 | Other: (432) 689-6985
Email: [email protected]
Website: www.chinaaid.org