The Guardian
Sian Cain
Tuesday 8 December 2015 07.34 EST
Last modified on Tuesday 8 December 2015 08.28 EST
■ Poet and human rights activist Liu Xiaobo, who was represented by an empty chair at his 2010 Nobel prize ceremony, was detained in 2008 and sentenced to 11 years in prison
Margaret Atwood and Ian Rankin are among high-profile writers who have urged China to release Nobel laureate and poet Liu Xiaobo on the seventh anniversary of his arrest for "inciting subversion of state power".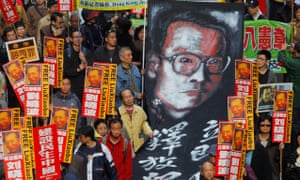 Pro-democracy lawmakers and demonstrators carry banners
demanding Liu Xiaobo's release at a rally in Hong Kong,
China, in 2010. Photograph: Ym Yik/EPA
The poet and human rights defender was sentenced to 11 years in prison after a long history of dissident writing and peaceful protest. He was initially detained in 2008, as the leading author of Charter '08, a manifesto calling for democratic and human rights reform in China. He was later charged in 2009.
The writers' campaign group PEN International released a statement saying it stands "in continued solidarity" with Liu Xiaobo, who was president of the Independent Chinese PEN Centre, and his wife, artist and poet Liu Xia, who has been under house arrest for more than five years.
Living in relative safety, we try to imagine the cost of speaking out. Liu Xiaobohas put his life on the line.Judith Rodriguez, PEN member
The PEN statement is signed by Margaret Atwood and Ian Rankin along with Lebanese author Hanan Al-Shaykh, Turkish author Elif Shafak, Canadian authorYann Martel, journalist Robert Cottrell, poet Judith Rodriguez, president of PEN International, Jennifer Clement, and president emeritus of PEN International, John Ralston Saul.
"Liu Xiaobo and Liu Xia represent the many critical voices across China currently being silenced," said Clement. "Their words reverberate across the globe and we will continue to fight for their freedom until China heeds our call. They may be imprisoned but we will not let them be silenced."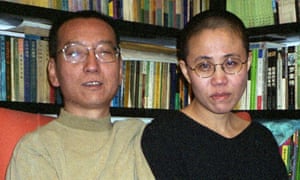 Liu Xiabo and his wife Liu Xia in a photo taken in 2002.
Photograph: AFP/Getty Images
Poet Judith Rodriguez said: "All supporters of freedom of expression – our one resource in the face of repressive regimes – must admire and speak up for Liu Xiaobo. Living in relative safety, we try to imagine the cost of speaking out. Liu Xiaobo has put his life on the line. It is an honour to be able to support his high principle and courage."
In October 2010, Liu Xiaobo was awarded the Nobel peace prize for his campaign for democracy and human rights in China. As he was in prison, the poet was represented by an empty chair at the award ceremony in Oslo.
China greeted the announcement of Liu Xiaobo's win with fury: a foreign ministry spokeswoman, Jiang Yu, attacked the event as a "political farce". Nationalist tabloid the Global Times called the award a "disgrace" and demanded an apology, saying: "The Nobel committee has no reason to believe their political judgment is better than that of 1.3 billion people."
Liu's wife Liu Xia was placed under house arrest following the 2010 Nobel announcement and has never been charged. Since then, her home has been guarded by security officers and she has been unable to work. She previously relied on income from her younger brother, Liu Hui, until he was sentenced to 11 years in jail for fraud. Liu Xia made a brief public appearance at her brother's trial in 2013, shouting to the media: "Tell everybody I am not free. In 2014, a video emerged of Liu Xia reading two new poems, which she had secretly filmed in her flat.


Liu Xia reads two poems written while under house arrest, Untitled and Drinking.
"We believe that the ongoing, extra-judicial house arrest of Liu Xia is intended as punishment for the human rights work carried out by her husband, Liu Xiaobo, and are extremely concerned for her physical and psychological well-being," the PEN statement said.
---
China Aid Contacts
Rachel Ritchie, English Media Director
Cell: (432) 553-1080 | Office: 1+ (888) 889-7757 | Other: (432) 689-6985
Email: [email protected]
Website: www.chinaaid.org