The Guardian
By Tom Phillips
Monday 27 June 2016 22.10 EDT
Last modified on Monday 27 June 2016 22.27 EDT
■ Chen Yunfei, a veteran campaigner from Sichuan province, faces 10 years in prison after travelling to the resting place of Wu Guofeng
A Chinese activist has been ordered to stand trial for visiting the grave of a young photographer killed in the 1989 Tiananmen massacre.
Chen Yunfei, a veteran campaigner from Sichuan province, was seized by police in March last year after travelling to the resting place of Wu Guofeng.
Wu was a 20-year-old student at Beijing's prestigious People's University when troops rolled into Tiananmen Square in early June 1989 as part of a bid to quell pro-democracy protests that had gripped cities across China.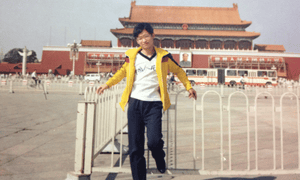 Wu Guofeng was a 20-year-old student in Beijing when he
was killed during the 1989 Tiananmen crackdown.
Photograph: Wu family archive
As Wu, a camera enthusiast, tried to photograph the mayhem of that now infamous night he was shot in the shoulder, chest and back of the head by advancing soldiers.
The student's family believes he was then deliberately speared with a bayonet after refusing to hand over his camera to the troops.
Nearly three decades later the Communist party continues to conceal the truth about its 1989 crackdown – in which hundreds, possibly thousands died – and there has been no inquiry or official explanation for Wu's death.
Before his detention, Chen, a 48-year-old Tiananmen survivor, had sought to draw attention to the killings and had used social media to denounce human rights abuses in China.
"Would a democratic country use tanks and real bullets against its own people?"he told the BBC in 2009. "I don't think so."
As part of his activism, Chen made annual trips to the small memorial where Wu Guofeng's ashes are kept in Xinjin, the rural town in south-west China where he was raised.
On 25 March 2015, shortly after making one such visit with the dead student's family, Chen was detained as part of the latest chapter of Beijing's war on dissent. Fellow activists accused authorities of attempting to silence an outspoken critic.
After more than a year behind bars, Chen is scheduled to stand trial in Sichuan's capital, Chengdu, on Thursday morning for allegedly "picking quarrels and provoking trouble". Human rights experts say the vague charge is often used against online activists viewed as irritants by the government.
Those convicted of "picking quarrels and provoking troubles" can face up to 10 years in jail.
According to an indictment presented to the court and posted online by Chen's lawyer, he will be accused of using his Twitter account, on which he boasts more than 44,000 followers, to start rumours about China's political system and post provocative remarks about the Communist party. Such comments had an "evil effect overseas," the document claims.
Ran Tong, the lawyer defending Chen, described the charges against his client as "very far-fetched" and rejected the suggestion that online criticism of Beijing was a crime.
"The constitution stipulates that people have the right to speak freely and have the right to criticise the government," he said.
Wu Dingfu, Wu Guofeng's elderly father, said he had hoped to attend Chen's trial, fearing a "conspiracy" to jail a man he considered a second son. But court officials had told him proceedings would not be open to the public. "We feel furious about their shameless behaviour," he said.
Wu said that before Chen's detention he had warned him of the perils of locking horns with the Communist party, telling him of the "tremendous pain" inflicted by his son's death. "He said he was not afraid: 'If they want to arrest me, then go ahead.'"
Activists say Chen's trial is the latest example of the Communist party's increasing allergy to dissent since Xi Jinping took power in 2012.
On Tuesday the Conservative party's human rights commission will urge Britain to rethink its increasingly close ties to China as a result of the deteriorating human rights situation under Xi.
Ran, the lawyer, said his client had instructed him to enter a plea of not guilty but admitted he felt pessimistic about the outcome. More than 99% of people tried in China's Communist party controlled courts are convicted each year.
"No matter how solid the evidence we use to prove his innocence, no matter how clear the law is, no matter how eloquent the lawyers are, I think he will be found guilty," Ran said.

Additional reporting by Christy Yao



---
China Aid Media Team
Cell: (432) 553-1080 | Office: 1+ (888) 889-7757 | Other: (432) 689-6985
Email: [email protected]
For more information, click here