The Guardian
By Stuart Leavenworth in Beijing
Sunday 7 February 2016 01.09 EST
Last modified on Sunday 7 February 2016 22.12 EST
■ The Rev Gu Yuese is believed to be the most senior government-sanctioned clergyman to be arrested since the Cultural Revolution
China
has formally arrested a prominent Protestant church leader who last year criticised a law sanctioning government removal of church crosses.
Authorities in Zhejiang province arrested the Rev Gu Yuese on Saturday, according to documents issued by the people's procuratorate of Hangzhou city. He was detained in late January, accused of embezzling funds.
Supporters of Gu, former chief pastor at Chongyi church, said the government arrested him on trumped-up charges and was punishing him for publicly opposing the removal of church crucifixes. Authorities have taken down hundreds of crosses in Zheijiang, a province on the east coast often described as China's bible belt.
Bob Fu, director of a Texas group called ChinaAid that provides legal assistance to Christians in China, said that Gu's detention and arrest was an attempt to intimidate the country's entire church officialdom.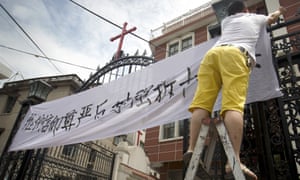 Christians protest at the removal of crosses from their church
in Yongjia in eastern China's Zhejiang province.
Photograph: Mark Schiefelbein/AP
"They want to send a message that if you show disloyalty to the party's religious policy, this is what is going to happen," Fu said in a telephone interview.
Fu said that's Gu case is significant because he was the highest-level government Christian official to be detained since the anti-church crackdowns of the Cultural Revolution. Until his detention, Gu led China's largest government-authorised church, which seats 5,000 people in Hangzhou, the capital of Zhejiang.
Gu, who is being held in the Hangzhou detention centre, has been replaced by a new pastor, Zhang Zhongcheng, appointed by the government.
Through his lawyers, Gu issued a statement in Chinese that, according to a translation provided by Fu, urged his congregation to support Zhang Zhongcheng and not to "rally around" his own case. Fu said the statement was likely orchestrated by the government to calm Gu's followers and lend legitimacy to the prosecution. In the statement, Gu said he was cooperating with investigators.
By some estimates, China is home to as many as 100 million Christians, higher than the Communist party's 88 million members. Government agencies and scholars put the figures much lower, at 30 to 50 million Christians.
Over the last three years, government authorities have removed hundreds of crosses from churches, with officials saying the removals are being done for public safety reasons.
Authorities have also flattened several churches, including the Sanjiang mega-church in Wenzhou, a city known as "China's Jerusalem" because of its large congregation. They have also detained people lending aid to the area's Christian community, including Zhang Kai, a prominent Beijing human rights lawyer.
Fu said he was highly concerned about Gu's safety, and believed he had been coerced by police into issuing the statement to his former congregation.
"I hope the international community will recognize this is a case of violation of religious freedom and rule of law, and press for his release," he said.
---
China Aid Media Team
Cell: (432) 553-1080 | Office: 1+ (888) 889-7757 | Other: (432) 689-6985
Email: [email protected]
For more information, click here