The Guardian
Tom Phillips in Beijing
Monday 8 May 2017 01.09 EDT
Last modified on Monday 8 May 2017 05.28 EDT
■ Xie Yang has been accused of conspiring to overthrow China's political system and faces a possible five years in prison



A leading Chinese human rights lawyer has been put on trial for allegedly conspiring to overthrow China's political system, just days after the United Nations slammed Beijing's ongoing offensive against human rights defenders.
Xie Yang, a 45-year-old attorney who was among the best-known targets of a sweeping crackdown dubbed China's "war on law", went on trial at 9.30am in the central city of Changsha, according to Xinhua, the Communist party-controlled news agency.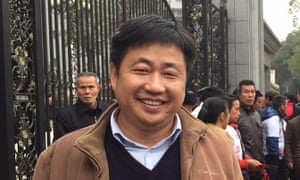 Lawyer Xie Yang who has been detained by Chinese
authorities as part of a crack down on human rights.
Photograph: Supplied
State media reports said Xie stood accused of "inciting state subversion" – an offence defined by the country's criminal law as an attempt to subvert state power or overthrow the socialist system by spreading "rumours or slanders". The crime carries a possible sentence of up to five years although those considered to be "ringleaders" or to have committed "grave crimes" could face longer jail terms.
Xie, who has been in custody since the crackdown began, in July 2015, is the latest human rights lawyer to stand trial. In late April another crusading lawyer, Li Heping, was convicted of "subversion of state power" and handed a suspended sentence following a secret trial. Despite his sentence Li, who has not seen his family since he was seized nearly two years ago, is not thought to have been released.
Xie's plight made headlines earlier this year after his lawyers released an explosive account of the torture sessions they claimed their client had suffered during his time in custody. "We'll torture you to death just like an ant," one inquisitor was said to have told Xie during his allegedly barbaric ordeal.
The Chinese government reacted furiously to those accusations, which experts said were impossible to verify but consistent with abuses previously documented by human rights groups. State-run media outlets have accused the western mediaof spreading "fake news" about Xie's treatment, dismissing such claims a series of "cleverly orchestrated lies".
In late February, ambassadors from countries including Australia, Canada, France, Germany and the United Kingdom, wrote to Guo Shengkun, China's minister of public security, to voice their disquiet over the torture claims and call for an independent investigation.
The campaign to discredit Xie's story appeared to continue at Monday's trial, which Xinhua said was attended by more than 40 people.
State media reported that Xie had confessed, shown "remorse for his crimes" and admitted that his actions had "tainted the image of the country and the Communist party and had a very negative effect".
According to the Global Times newspaper Xie told the court "he had not been tortured as was claimed by some reports" and that "his legal rights had been sufficiently protected" by authorities.
In a brief video clip posted on the court's social media account, Xie could be heard telling prosecution team: "No, I've never been tortured."
A Chinese lawyer on trial for subversion and disrupting court order has dismissed rumours that he was tortured while in police detention.

pic.twitter.com/VitDQorkzs

— China Daily USA (@ChinaDailyUSA) May 8, 2017
Relatives and supporters of Xie rejected those claims.
In an online statement, his wife, Chen Guiqiu, wrote: "Xie Yang is innocent".
Teng Biao, a respected Chinese human rights lawyer and scholar who fled Xi's crackdown on civil society in 2014 and now lives in the United States, said: "It is very clear that these proceedings are totally arbitrary and illegal."
Teng described the trials of Xie and other civil rights lawyers as a politically-driven attempt to wipe out opposition to the Communist party at a time of "political, economic and ideological crisis".
"I feel very sad and very angry," Teng said by phone from his home in New Jersey where he lives in exile with his wife and daughter.
"He is a very brave human rights lawyer," the exiled lawyer said of Xie.
"These people should be respected by all Chinese people but what the government has done is totally unacceptable and goes against [people's] fundamental human rights."
At Monday's trial, Xie appears to have been represented by two government-appointed lawyers, who Chinese media named as He Xiaodian and Liu Zhijiang.
Xie's attorney, Chen Jiangang, was reportedly seized by police in southwest Chinalast week and Teng Biao said his location was currently unknown.
In a statement released last Friday, the United Nations human rights office (OHCHR) said it was "deeply troubled" by the detention of Xie's lawyer.
Additional reporting by Wang Zhen
---
ChinaAid Media Team
Cell: (432) 553-1080 | Office: 1+ (888) 889-7757 | Other: (432) 689-6985
Email: [email protected]
For more information, click here