The Guardian
Tom Phillips in Beijing and agencies

Tuesday 24 October 2017 07.09 EDT
First published on Monday 23 October 2017 22.33 EDT
Joshua Wong granted bail with fellow activist Nathan Law after they were jailed for their roles in 2014 democracy protests
The Hong Kong democracy activist Joshua Wong has vowed to continue his struggle against Communist party "suppression" after being released from prison while he appeals against his sentence for unlawful assembly.
Wong and Nathan Law, a fellow activist, were jailed in August for their roles in a demonstration that helped spark the city's large-scale "umbrella movement" pro-democracy protests in 2014.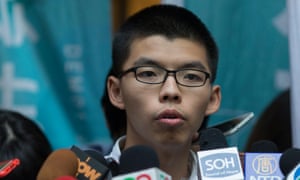 Joshua Wong speaks to reporters outside
the courthouse in Hong Kong.
Photograph: Jerome Favre/EPA
On Tuesday, Hong Kong's chief justice, Geoffrey Ma, who heads the court of final appeal, granted the pair bail while they appeal their six-month and eight-month jail terms respectively, saying there was no flight risk.
Speaking outside the court, Wong, 21, said: "Although I obtained temporary freedom, there is a chance that I will go to jail again this year … Regardless, we will face suppression under the authoritarian regime calmly."
He added, according to the Hong Kong Free Press website: "This may not be the first time we go to jail, there may be more young people going to jail in the future – but we will press on with our beliefs and fight together on the path to democracy."
Prison is an inevitable part of Hong Kong's exhausting path to democracy
Joshua Wong, Pik Uk correctional institution, Hong Kong
The local broadcaster RTHK reported that Ma required Wong and Law to post 50,000 Hong Kong dollars (£4,860) as bail, surrender their travel documents and report to police once a week. Their appeals will be heard on 7 November.
On emerging from the courthouse, Law said there had been "unpleasant times" in prison and that he was looking forward to a meal with his family.
He said the result of the appeal would depend on "the implementation of 'one country, two systems'", the semi-autonomous deal that guarantees Hong Kong rights unseen on the mainland. China has been accused of trampling the arrangement, made when Britain handed back Hong Kong in 1997.
"I hope the result of the case showcases the protection of human rights in our law system," Law told reporters.
Supporters outside punched the air at news of the pair's release. Wong's father, Roger, who has heavily criticised his son's imprisonment, was at the court.
Eddie Chu, a lawmaker, said their release on bail was "encouraging news for supporters of democracy". "We need them out here with us to fight these battles," he said outside the court.
The jailing in August of Wong, Law and Alex Chow, leaders of the Chinese-ruled city's democracy movement, dealt a blow to the youth-led push for universal suffrage and prompted accusations of political interference. Tens of thousands of people demonstrated locally, and there was an international outcry.
Wong gained fame for his prominent role in the Hong Kong protests while still a teenager. Law was elected last year to the legislature, becoming the city's youngest ever lawmaker, but was disqualified from office after a government legal challenge over irregularities in his oath.
Chow had not applied for bail.


Reuters and Agence France-Presse contributed to this report
---
ChinaAid Media Team
Cell: +1 (432) 553-1080 | Office: +1 (432) 689-6985 | Other: +1 (888) 889-7757
Email: [email protected]
For more information, click here