Monday 25 July 2016 01.02 EDT
■ Mysterious confession fuels fears of Beijing's influence on Hong Kong's top newspaper
The South China Morning Post is being asked to explain how it obtained an interview with a young activist who was detained by Chinese authorities
Hong Kong's most prestigious English-language newspaper is facing calls to explain how it obtained a controversial interview with a young Chinese activist amid fears of Beijing's influence on the 113-year-old broadsheet.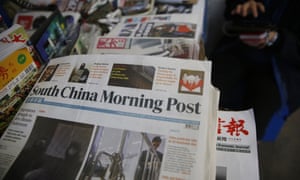 Within days of Zhao Wei's reported release, the South China
Morning Post managed to contact her despite the fact that her
own lawyer and husband said they had been unable to do so.
Photograph: Kin Cheung/AP
The calls, from activists, media experts and former and current journalists at the South China
Morning Post, come after the newspaper published a story in which a 24-year-old legal assistant, who had spent nearly a year in secret detention, claimed she regretted her activism.
Zhao Wei was seized in July 2015 at the start of a major government crackdown on human rights lawyers and was released on bail earlier this month, according to Chinese police.
Within days of that reported release the South China Morning Post managed to contact her despite the fact that Zhao's own lawyer and husband said they had been unable to do so and suspected she was still under some form of custody.
The Guardian understands that the newspaper talked to Zhao Wei with the help of a mysterious intermediary whose identity has not been revealed to staff.
"It's just so sad. A newspaper that used to be one of the best in Asia is now becoming a mouthpiece," one former employee told the Guardian this week.
Criticism of the South China Morning Post, or SCMP as it is widely known, comes after the newspaper was bought by one of China's wealthiest business tycoons, the founder of Alibaba, Jack Ma.
Ma, a tech billionaire some call China's Steve Jobs, brushed off concerns that the broadsheet's editorial independence was at risk after the deal was announced last December.
"Trust us," said Ma, scoffing at fears that under his watch editors at the SCMP might buckle to political pressure from the Communist party.
But, seven months later, there is anger in the Post's newsroom and among readers and claims that what was once Hong Kong's newspaper of record has lost its way.
That anger has been brought into relief after the publication of the mysterious interview with Zhao.
Zhao was the youngest target of what activists describe as an unprecedented crackdown on human rights lawyers in mainland China.
The interview with her was conducted by telephone on 10 July, just three days after Zhao's release was announced, and was published the following day under the headline: 'Young Chinese legal activist 'regrets' civil rights activism'.
"I have come to realise that I have taken the wrong path," Zhao was quoted as saying in the article. "I repent for what I did. I'm now a brand new person."
The story did not make clear how the SCMP had managed to make contact with Zhao and activists, media experts and Zhao's husband and lawyer suspect the interview was set up by mainland authorities and conducted against her will.
They are demanding answers from the newspaper about the circumstances in which its reporter – who it has not named – was able to contact her.
"To be honest, I feel odd as well," Zhao's lawyer, Yan Huafeng, told the Guardian. "Even though I am her defence lawyer … I don't know how they got in touch with each other."
Murong Xuecun, an outspoken Chinese novelist, wrote on Twitter: "The South China Morning Post must explain its exclusive interview with Zhao Wei."
David Bandurski, a respected Hong Kong media analyst, urged the newspaper to "come clean" about the "perplexing" episode, which he said raised "serious questions about the newspaper's commitment to editorial independence" under Ma.
The interview looked "eerily" like the kind of forced media confession that has become common since the Chinese president, Xi Jinping, took power in 2012, Bandurski added.
Former and current employees at the SCMP have also expressed concern over the interview.
"People are upset and angry," one newsroom insider, who spoke on the condition of anonymity, said of the episode.
A former SCMP editor, who also asked not to be named, said: "This one does smell very, very fishy."
Another former journalist, who also declined to be named, said they suspected the interview "was somehow planted by the Chinese authorities", adding: "That's why the Post got the scoop on that."
In an emailed statement, signed by "the editors" of the SCMP, the newspaper said it was "tempted to conclude" that questions being raised over its interview with Zhao were an attempt "to paint the South China Morning Post in a negative light".
The editors noted that their newspaper's story had stated it had been unable to ascertain where Zhao was speaking from or if she was under surveillance.
However, the SCMP repeatedly declined to explain how it had been able to arrange an interview with a woman whose own husband and lawyer have not been able to contact her. It also declined to address claims that the interview had been handed to it by Chinese authorities.
"Like the Guardian and other principled news organisations, the South China Morning Post treats the protection of confidential sources as sacrosanct," the SCMP's editors said. "We therefore fail to understand why the Guardian is attempting to impugn our professionalism for maintaining a policy on sources that the Guardian follows as well."
Founded in 1903, when Hong Kong was still under British rule, the SCMP was once one of the most profitable newspapers on earth; an award-winning broadsheet famed for chasing stories the Communist party forbade its state-run competitors over the border in mainland China from touching.
The newspaper, which claims a readership of nearly 350,000 and a print circulation of about 100,000, continues to market itself as a flag-bearer of the"gold standard of news publishing in the region".
Its website was blocked by Communist party censors in March this year and remains inaccessible in mainland China without the use of a virtual private network.
Yet persistent doubts over the SCMP's commitment to independent journalism resurfaced last December after Ma announced a $266m takeoverof the newspaper.
Those behind the deal said they hoped to use the SCMP to paint a more positive picture of China and provide a counterbalance to the western media's "too ideological and biased" coverage.
Willy Lam, a former SCMP editor who left the paper in 2000 claiming its bosses wanted to "depoliticise" coverage, said that since the takeover he had noticed an increase in the number of "very positive [articles] about the Chinese economy and the Chinese leadership" in the pages of the SCMP.
"Even before Jack Ma took over it had progressively become more pro-establishment," Lam told the Guardian. "But I think after the Alibaba takeover it has become progressively worse."
In interviews after the Zhao interview, journalists who have worked at the Post at different points over the last decade echoed that analysis.
They described an increasingly politicised working environment where senior editors were often reluctant to publish stories that might upset Beijing.
Most believed the editorial stance had become markedly less critical of Beijing since Wang Xiangwei and Tammy Tam – the broadsheet's first mainland editor-in-chiefs – took over in 2012 and 2016 respectively.
Early in his four-year tenure Wang faced accusations – which he rejected – that he had deliberately downplayed the suspicious death of a Chinese dissident and become a form of "in-house censor" who shied away from sensitive stories.
Others pinpointed Hong Kong's 2014 "umbrella movement" pro-democracy street protests as a turning point.
The newspaper's management celebrated the spike in online traffic the demonstrations had brought as the world's eyes turned on Hong Kong – "They were thrilled by the figures," said one former journalist – but were concerned the SCMP's coverage had been seen as too supportive of the protesters.
"I could feel a tension after Occupy," said one reporter who said they believed the newspaper's coverage had become "more ideological" and hostile to Hong Kong's pro-democracy movement after the 79-day street occupation.
Paul Mooney, a veteran American journalist who worked for the SCMP until 2012 and has won multiple awards for his work on human rights issues in China, said the newspaper continued to produce good stories on sensitive issues.
"They realise they can't become a Xinhua or a China Daily; they have to kind of maintain the semblance of being objective," said Mooney, who has claimed he was forced from the newspaper for political reasons.
But Mooney and other former and current employees said it had become common in recent years to see stories heavily rewritten, re-crafted or scrapped entirely to remove aspects that might displease Beijing.
"It seems the whole paper has been co-opted by Beijing or people that are loyal to Beijing and they have destroyed a paper that has been around for many years," Mooney said.
A former SCMP editor, who spoke on the condition of anonymity, agreed the paper still produced major scoops and critical stories that Beijing would see as "very, very unwelcome".
As examples, the editor pointed to recent articles about a group of booksellers thought to have been abducted by Chinese security agents,coverage of the umbrella movement protests and political scoops about the downfall of Communist party high-fliers including the former security chief Zhou Yongkang.
But the editor added: "The owners and the top editors have to at least maintain the facade of editorial independence. They couldn't turn overnight into a Hong Kong edition of China Daily. But the whole balance seems to be tipping, for sure. Not overnight but gradually."
Two former employees said Voices From Tiananmen, a multimedia project marking 25 years since the 1989 massacre, faced resistance from editors but was eventually published one day before its anniversary, on 3 June 2014.
But those involved in the award-winning project have all now left the newspaper, they said. "One by one we were forced to leave or it was made pretty clear to us that anybody who had [played] any part in that story would never be welcome again at the Post," said one member of the team.
A second person with knowledge of the Tiananmen project gave a less dramatic account of the departures but said they were the result of "a general conflict of two visions for our China coverage". The conflict was between those hoping to pursue more critical journalism against those apparently less inclined to offend Beijing.
A third SCMP journalist said they had been shocked by its coverage of the Panama Papers revelations in April.
The journalist claimed editors had largely buried reports that members of China's Communist elite had been found to have concealed their wealth with offshore companies.
"They are most nervous about people or articles pointing fingers at the leadership. You cannot really criticise the leadership," the journalist said, adding: "It is so demoralising."
The SCMP has rejected claims it downplayed revelations about the Communist party in the Panama Papers, with one senior editor blaming such criticism on"butthurt ex-Post employees with axes to grind".
The former editor said it would be wrong to blame all of the newspaper's problems on self-censorship but admitted "there is a wider trend towards more control and a more positive line towards the Chinese government and that is hard to deny".
"I think there is a sense that this is the new normal," the editor added. "People have accepted that this is a different type of publication now, being published under different circumstances. It's a different paper – and not for the better."
The same journalist claimed SCMP journalists were now "fleeing" in their droves and said the Alibaba takeover – and its executives' comments on their vision for the newspaper – had done nothing to staunch the outflow. "The paper already had a mixed reputation under the old ownership and under Wang Xiangwei's editorship. Now it's only getting worse in terms of self-censorship."
My friend Li Heping, a man China thinks is 'more dangerous than Bin Laden'
Terence Halliday
Fears over shrinking press freedom in the former colony – which has far greater political liberties than the mainland thanks to the "one country, two systems" framework agreed before handover in 1997 – were voiced in a recent report by the Hong Kong Journalists Association.
The report, called One country, two nightmares, noted that Beijing had been fighting to gain control of Hong Kong's newsrooms ever since the Tiananmen massacre in 1989.
"The relative success of this policy is seen in the fact that the Chinese government or mainland corporations now have direct control or stakes in eight out of 26 mainstream media outlets – 31% of the total," the report said. Pointing to Alibaba's acquisition of the SCMP, it added: "The upward trend of mainlanders investing in the Hong Kong media is worrying."
Last week Reporters Without Borders, the international rights group, questioned Alibaba's acquisition of "one of the last champions of the free press in Hong Kong".
"Now that it has been snared by Jack Ma, what fate awaits the South China Morning Post?" the group asked in a new report about media ownership.
In a statement, the SCMP's editors accused the Guardian of "selective bias" in its choice of interviewees.
They said: "Our stand has not changed before or after we changed ownership and it is this: the South China Morning Post's future will continue to depend on independent, critical journalism.
"We continue to be able to attract the talented and committed professionals we need to do that job. Thus, unlike you, we are not inclined to take the doomsday scenarios you have painted too seriously.
"[We] hope you aspire and live up to the same standards of critical independent journalism you demand of us."
Not all of those interviewed were critical of the broadsheet's direction during their time at its Causeway Bay headquarters.
While one journalist described a "poisonous atmosphere" inside the SCMP newsroom other former employees said the editorial team was a tight-knit group that was still fighting to push the envelope with their journalism.
"There are lots of very good people," said one serving journalist. "There's a lot of camaraderie. Lots of people are trying to do a good job."
David Lague, the newspaper's managing editor between 2009 and 2011, said he had never felt the chill of censorship. "We had a tremendously free hand," he said.
All the former Post journalists who spoke to the Guardian were at pains to praise their colleagues still working there, who continue to pick up awards for their reporting on social, environment, human rights and business issues.
"There are still professional people working there who want to do everything in their power – even though this ends them up in their bosses' bad favour all the time – [to] challenge things, to argue for things at news meetings," the former editor said.
But few retained any faith in the newspaper's future as a speaker of truth to power.
"I'm sure they are trying to get out any chance they can," the editor said. "They are so tired of this whole thing. So disgusted."
Additional reporting by Christy Yao


---
China Aid Media Team
Cell: (432) 553-1080 | Office: 1+ (888) 889-7757 | Other: (432) 689-6985
Email: [email protected]
For more information, click here