Lily Kuo
Fri 21 Sep 2018 06.05 EDT
Last modified on Fri 21 Sep 2018 08.04 EDT
Minister urges Beijing to soften restrictions on minorities in Xinjiang after reports of abuses
Pakistan has asked China to soften restrictions on ethnic Muslims in Xinjiang, one of the first public criticisms from a majority Muslim country over China's policies in the western territory.
Xinjiang, home to 12 million Muslims, is the site of a government "strike hard" campaign aimed at countering extremism and other behaviour Beijing has deemed a security threat. Allegations of human rights abuses and widespread repression in Xinjiang have prompted international protest, but few Muslim-majority countries have spoken out.
According to the Pakistani newspaper, the Nation, the country's federal minister for religious affairs, Pir Noorul Haq Qadri, said strict regulations and laws fuel rather than counter extremism. To promote religious harmony, China should exercise patience, the minister told China's ambassador to Pakistan, Yao Jing.
The minister reportedly proposed a delegation of Pakistani scholars visit Xinjiang to help. Emails and calls to Pakistan's embassy in Beijing were not answered.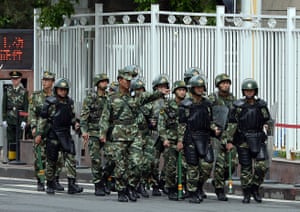 Paramilitary police patrol a street in Urumqi
in Xinjiang in 2014.
Photograph: Goh Chain Hin/AFP/Getty Images
Criticism of Beijing has increased after a UN panel last month cited "credible reports" that as many as 1 million ethnic Uighurs, Kazakhs, and other minorities are being held in internment camps. Activists, researchers, and media outlets have documented mass detentions, surveillance, and suppression of cultural and religious life in Xinjiang.
China's neighbours and economic partners are increasingly caught up in the crackdown in Xinjiang, which has accelerated in the last two years after the arrival of communist party secretary Chen Quanguo, dispatched to Xinjiang from Tibet.
In March, lawmakers in the northern territory of Gilgit-Baltistan, part of the $62bn China-Pakistan Economic Corridor, demanded Chinese authorities release 50 Uighur womenmarried to Pakistani men who had been detained in Xinjiang on vague terrorism charges. In Kazakhstan, hundreds of Kazakh families are calling on their government to pressure China to release detained relatives.
Beijing has repeatedly defended its policies in Xinjiang. In a press briefing on Wednesday, ministry of foreign affairs spokesman Geng Shuang said tourism to Xinjiang "proves Xinjiang's current good situation".
"If Xinjiang were not safe, stable and harmonious, then there would not be so many Chinese and foreign tourists going to Xinjiang for sightseeing," Geng said. He said the number of visitors to the region had increased more than 30% in 2017 from the year before.
On Friday, China's anti-graft department said it was investigating Nur Bekri, head of the country's energy planning agency and one the most senior ethnic Uighur officials. Bekri has been accused of "serious violations of discipline and law", according to the People's Daily. The term is often a euphemism for corruption.
Bekri's case may not be related to the crackdown in Xinjiang, but the detention of minority officials has been another part of the campaign, according to rights activists. Xinjiang's governor from 2008 until 2014 and one of few Uighur officials to have gained a national level post, he has supported most of China's restrictive policies in Xinjiang.
"The fate of Nur Bekri is a signal for all Uighurs that no matter how loyal you are to the Chinese communist party, you are the same enemy to them," said Tahir Imin, an Uighur academic and activist based in the US.
---
ChinaAid Media Team
Cell: +1 (432) 553-1080 | Office: +1 (432) 689-6985 | Other: +1 (888) 889-7757
Email: [email protected]
For more information, click here