The Guardian
Benjamin Haas in Hong Kong
Monday 26 June 2017 12.47 EDT
Last modified on Monday 26 June 2017 15.44 EDT
■ Human rights groups and fellow dissidents react after Liu Xiaobo is transferred to hospital with late-stage liver cancer
China's dissident community has expressed anger, shock and sadness that the country's best-known political prisoner – the democracy activist and Nobel peace prize winner
Liu Xiaobo
– has been transferred to hospital after being diagnosed with terminal liver cancer.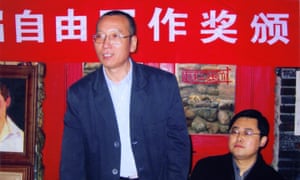 An undated handout image of Liu Xiaobo, the 2010 Nobel
peace prize winner. Photograph: EPA
Liu, 61, had been serving an 11-year prison sentence for inciting subversion of state power. His lawyer, Mo Shaoping, who has been in contact with Liu's family, said he was now in the late stages of disease. Another of Liu's lawyers, Shang Baojun, said he had been diagnosed on 23 May.
"This type of late-stage cancer is very difficult to treat. It would have been easier if it was discovered sooner," Shang said. "It's extremely serious."
News of Liu's diagnosis was met with an outpouring of anger from activists in China and abroad.
"This is simply a political murder, this is how the Communist party deals with its enemies, a prisoner of conscience dying just outside a jail cell," said Hu Jia, a fellow activist who has known Liu for more than a decade and previously collaborated with him. "I've been to prison in China. The medical care is terrible and I'm sure China's leaders were hoping for this outcome."
In a rare statement, the Norwegian Nobel committee, which awarded Liu the prize in 2010, said: "Liu Xiaobo has fought a relentless struggle in favour of democracy and human rights in China and has already paid a heavy price. Chinese authorities carry a heavy responsibility if Liu Xiaobo, because of his imprisonment, has been denied necessary medical treatment."
Liu is being treated by a team of eight doctors at the First Hospital of China Medical University in the north-eastern city of Shenyang, according to the provincial prison bureau, which also confirmed his medical parole.
Friends and family worry he may not receive the best care. He has asked to return to his home of Beijing to undergo medical treatment, but the authorities refused permission to do so.
"It adds injury to insult that Liu Xiaobo, who should never have been put in prison in the first place, has been diagnosed with a grave illness," said Patrick Poon, a China researcher at Amnesty International. "The Chinese authorities should immediately ensure that Liu Xiaobo receives adequate medical care, effective access to his family and that he and all others imprisoned solely for exercising their human rights are immediately and unconditionally released."
Liu was arrested in 2008 after writing a pro-democracy manifesto called Charter 08, in which he called for an end to one-party rule and improvements in human rights. Following a year in detention and a two-hour trial, he was sentenced to 11 years in December 2009.
Little has been heard from him since, and he was represented by an empty chair during the 2010 the Nobel peace prize award ceremony. In his absence, Liu's final statement to the court entitled "I have no enemies" was read in place of his speech.
"Enemy mentality will poison the spirit of a nation, incite cruel mortal struggles, destroy a society's tolerance and humanity, and hinder a nation's progress toward freedom and democracy," one section read. "That is why I hope to be able to transcend my personal experiences as I look upon our nation's development and social change, to counter the regime's hostility with utmost goodwill, and to dispel hatred with love."
Zhang Xuezhong, a legal scholar and human rights activist, said Liu had been a symbol of hope for many years.
"It's known that Liu Xiaobo and his family have made a tremendous sacrifice for the cause of freedom and democracy for China," said Zhang. "This is unfortunate news for him and his family, and it's a blow to China's democracy movement, as so many people have placed hope in him, and rightfully so."
Sophie Richardson, the China director at Human Rights Watch, said: "The Chinese government's culpability for wrongfully imprisoning Liu Xiaobo is deepened by the fact that they released him only when he became gravely ill."
A foreign ministry spokesman was "not aware of the situation" when asked about Liu's case at a daily press briefing.
A literary critic and scholar, Liu was previously jailed for two years in the wake of the 1989 Tiananmen Square democracy protests and subsequent massacre.
His wife, Liu Xia, has been under house arrest since her husband won his Nobel prize and has reportedly suffered from depression and insomnia because of her isolation. She has not been formally charged with a crime despite spending the past seven years confined to her apartment.
Any meetings between the couple, usually one a month, are watched over by prison guards who interrupt any conversation they deem unsavoury. They are not allowed to touch.
More than 1,400 political dissidents are detained in China, according to a US congressional database, but the number is probably higher because information about topics deemed sensitive by the ruling Communist party is heavily censored.
Since coming to power in 2012, the Chinese president, Xi Jinping, has overseen a wide-ranging crackdown on civil society, including the arrest of feminist activists, human rights lawyers and book publishers.
Liu's 2010 Nobel prize infuriated the Chinese government and relations with Norway quickly deteriorated. Normal relations were only restored in December 2016, when the country said it "attaches high importance to China's core interests and major concerns, will not support actions that undermine them, and will do its best to avoid any future damage to the bilateral relations".
---
ChinaAid Media Team
Cell: (432) 553-1080 | Office: 1+ (888) 889-7757 | Other: (432) 689-6985
Email: [email protected]
For more information, click here