Last modified on Tuesday 22 December 2015 10.43 EST
■ Free speech champion found guilty of 'inciting ethnic hatred' is released into some form of house arrest after unexpected ruling
The Chinese free speech champion Pu Zhiqiang is preparing to spend his first night out of detention in more than 18 months after being unexpectedly released by a Communist party-controlled court.
Pu, who is one of China's best-known civil rights lawyers, was detained in May 2014 in what supporters described as a politically motivated attempt to silence his outspoken criticism of the government.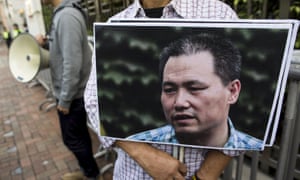 A pro-democracy protester holds a portrait of the Chinese
human rights lawyer Pu Zhiqiang during a demonstration
demanding his release. Photograph: Tyrone Siu/Reuters
He had been facing eight years behind bars for seven sarcastic posts on Chinese social media questioning government policy.
However, on Tuesday morning a court in Beijing handed the 50-year-old lawyer a three-year suspended prison sentence for the alleged crimes of "inciting ethnic hatred" and "disturbing public order".
That decision – less harsh than some supporters had feared given the political chill that has descended on China since Xi Jinping became leader in 2012 – paved the way for Pu's release into some form of house arrest.
A black Volkswagen, believed to be carrying the lawyer and his wife, Meng Qun , left Beijing's Number One detention centre at about 4.15pm local time, speeding off into the acrid smog past clusters of police officers and journalists. Pu was not visible through the vehicle's blacked out windows.
However, shortly after, Shang Baojun , one of Pu's lawyers, said he had spoken to his client, who told him he had been taken from the detention centre and placed under surveillance in an undisclosed location that was not his home.
"I am grateful for people's concern and support," Pu said, according to his lawyer. "Right now I need rest," he added.
In a separate message, Meng, who had not been allowed to see her husband since his detention, said Pu was now being held under "residential surveillance". She added: "He needs to restore his health. Thanks for your concern."
Xinhua, China's official news agency, claimed Pu had been given "a light punishment … as he confessed his crime honestly, pleaded guilty and repented his guilt". Xinhua said his "provocative" online messages had created an "antagonistic mentality in many and [had] a severe social impact", without elaborating on the nature of that impact.
Mo Shaoping , another one of Pu's lawyer, insisted his client maintained his innocence even though he did not plan to appeal the sentence. News that Pu would be released was welcomed by some supporters.
"Home!" wrote Jia Zhangke , the Chinese film director, on Weibo alongside a photograph of the lawyer.
Others condemned Beijing's decision to hand down any punishment at all. Under Tuesday's ruling, Pu will be barred from practising law.
Murong Xuecun , a Chinese novelist and friend, said Pu should have been completely absolved and awarded compensation for having to spend nearly 600 days in "illegal detention".
"Other than that, any verdict is an insult," the author said. "I feel angry. I cannot accept this."
Sophie Richardson , Human Rights Watch's China director, said Pu's sentencing made a mockery of Xi's claims to be advancing the rule of law in China. She said: "The only acceptable sentence from the perspective of real rule of law is of course that Pu be freed immediately and utterly exonerated since he has broken no law."
In a statement, Amnesty International attacked the court's decision as "a gross injustice" and as "a deliberate attempt by the Chinese authorities to shackle a champion of freedom of expression".
Nicholas Bequelin , Amnesty's director for east Asia, said the decision not to hand down the maximum sentence of eight years suggested a "political compromise" by the Communist party.
That compromise allowed China's security forces to save face but simultaneously "keeps the screws on Pu", who could face a return to jail if he refuses to step into line.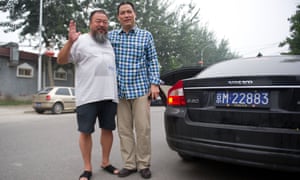 Chinese artist Ai Weiwei (left) stands with his lawyer Pu
Zhiqiang in 2012. Photograph: Ed Jones/AFP/Getty Images
At the time of his detention, Pu, who was a student leader during the 1989 Tiananmen massacre, was considered one of China's foremost human rights lawyers – an outspoken and often irreverent attorney whose client list included the dissident artist Ai Weiwei .
Pu commanded a large online following and was known for his withering criticism of the government on Weibo, where his accounts were frequently shut down by censors.
Supporters believe the Communist party, which has been pursuing a severe crackdown on its opponents, was determined to silence a man they saw as a potential political threat.
"If he were an American politician he'd outshine a lot of the candidates we have here – both intellectually and in his personal delivery," said Perry Link , an American academic who knows Pu.
Speaking before Tuesday's sentencing, William J Dobson , the author of The Dictator's Learning Curve , said Pu's trial highlighted the way in which authoritarian regimes used the law as "a cudgel of the state to keep the population in line".
Dobson, who has spent time in China with Pu, said: "[Beijing is] increasingly showing a tougher and tougher line with dissent and with those who question the system. They are trying to make an example of those who do.
"The question then becomes: is that a sign of strength or is that a sign of weakness? Does that instinct come from confidence or does it come from fear? I don't know that we know the answer to that yet."
Richardson said the sentence did not signal that Xi's crackdown on dissent was easing. She pointed to the continued imprisonment of other high-profile lawyers, including Li Heping and Wang Yu . "I will believe it is over when every single one of those lawyers turns up unscathed," she said.
Murong Xuecun said the government's treatment of his friend gave the lie to Xi's claims he was bringing the rule of law to China.
"You can see this government doesn't care the slightest about the so-called rule of law or about building a so-called country ruled by law," he said. "Pu's case has made such slogans a laughing stock in China."


Additional reporting by Christy Yao
---
China Aid Contacts
Rachel Ritchie, English Media Director
Cell: (432) 553-1080 | Office: 1+ (888) 889-7757 | Other: (432) 689-6985
Email: [email protected]
Website: www.chinaaid.org