By
Tom Phillips
Wednesday 6 July 2016 22.59 EDT
■ 'They are put through the worst imaginable things,' says Ai Xiaoming, whose documentary was sparked by Communist party's year-old 'war on law' under which hundreds of human rights defenders have been detained or interrogated
Twelve months after Beijing launched what activists describe as an unprecedented offensive against China's civil rights lawyers, a new documentary has exposed the crackdown's human toll.
The film, entitled Shanshan's Year, tells the story of Yuan Shanshan, a 36-year-old mother whose husband, Xie Yanyi, was among those caught up in Beijing's so-called "war on law", which began on 9 July 2015.
Xie, a Beijing-based attorney, was detained on day four of the police roundup during which hundreds of rights lawyers, their staff and supporters were taken into custody or interrogated.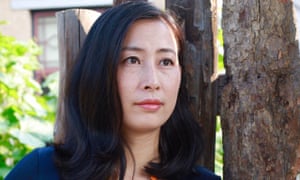 Yuan Shanshan, the 36-year-old wife of Chinese attorney Xie
Yanyi, was one month pregnant when her husband was
detained in July 2015 at the start of a major crackdown on
human rights lawyers. Photograph: Ai Xiaoming
One year on, Xie is one of more than 20 lawyers and activists still in custodyfacing charges of political subversion that could see some jailed for life.
Ai Xiaoming, the documentary's director, said she hoped her film would showcase both the despair and the determination of the lawyers' wives as they struggled to cope with the absence of their partners.
"I want people to see how the families of the human rights lawyers manage to survive even when they are put through the worst imaginable things," she said.
Ai, a prominent activist and documentary maker who has made numerous films about Chinese society, said the resilience and fearlessness of the lawyers' wives –who continue to demand the release of their husbands – had given her renewed hope for change in China.
"We must stick to our values and defend these values through our actions," she said.
Human rights groups say the so-called "709 crackdown" – named after the day and month it began – has made a mockery of President Xi Jinping's claims to be attempting to advance the rule of law in China.
Activists and western diplomats see the detentions as part of wider attempts to rein in civil society and muzzle dissent that have intensified since Xi came to power in 2012.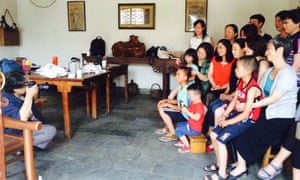 Chinese activist and documentary maker Ai Xiaoming (left)
takes a photograph of the wives and children of some of the
human rights lawyers detained as part of a crackdown by
China's leaders. Photograph: Ai Xiaoming
On Thursday, the eve of the crackdown's one-year anniversary, Human Rights Watch urged Beijing to release the lawyers, saying they were "at high risk of torture". "Every day these people languish in detention … deepens the stain on China's reputation," it said.
Amnesty International called on Xi Jinping to end China's "relentless repression" and accused the Communist party of using "every repressive and dirty trick in the book to crush this respected group of lawyers".
Sophie Richardson, Human Rights Watch's China director, said: "It is appalling. How can this government possibly claim any respect for the rule of law when it has arbitrarily detained and held incommunicado for a year, in violation of multiple aspects of criminal procedure, a group of peaceful human rights lawyers?"
Richardson said the majority of those being held had been denied the right to appoint their own attorneys or even see their families. "Kafka would have a field day with this."
Ai's 23-minute independent documentary, which was released online this week, highlights the anguish caused by Beijing's attack on the country's human rights community.
The director said Yuan, her film's main character, had faced an emotional rollercoaster since her husband's detention on 12 July 2015, when she was one month pregnant.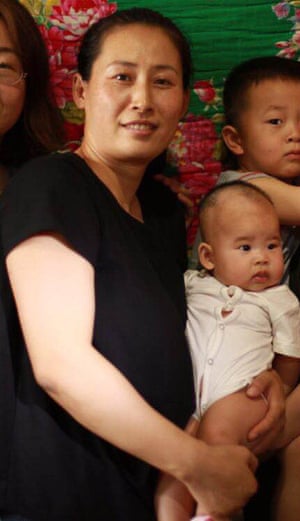 Yuan Shanshan holds her four-month-old
unnamed daughter, who was born following
the detention of her husband by Chinese
authorities. Photograph: Ai Xiaoming
In one scene Yuan breaks down in tears as she recounts how police prevented her 41-year-old husband from attending the funeral of his mother when she died six weeks after he was seized.
"I wish he could come back to say sorry and to see her off," says the lawyer's wife who also had to give birth to the couple's third child without the support of her imprisoned husband.
In Xie's absence their baby daughter, who was born in March, has yet to be named.
Beijing has been tight-lipped over the fate of the human rights lawyers in the lead up to the crackdown's anniversary on Saturday. In 2015 the Communist party-controlled press dismissed the lawyers as "self-serving publicists" and troublemakers who were intent on stoking unrest.
Yuan told the Guardian she hoped the documentary about her family's plight would offer encouragement to other families and victims of injustice.
"We also want people who haven't encountered such treatment to understand China's legal situation so they [are able] to protect themselves," she added.
Ai, a 63-year-old retired literature professor and feminist who started making documentaries in 2004, said she wanted her films to help society reflect on and remember key social issues. "Documentaries are about bearing witness. They make people see each other," she said.
"On its own a documentary might not directly be able to change something," Ai added. "But telling these stories is very important."


Additional reporting by Christy Yao
---
China Aid Media Team
Cell: (432) 553-1080 | Office: 1+ (888) 889-7757 | Other: (432) 689-6985
Email: [email protected]
For more information, click here