By
Carol Kuruvilla
05/01/2018 08:03 am ET
Experts say John Cao's arrest and subsequent sentencing could be part of the ruling Communist Party's attempts to exert authority over independent Christian churches.




Ben Cao speaks about his father as though the man is a living legend. The 23-year-old from Charlotte, North Carolina, says his father, the Rev. John Sanqiang Cao, is a passionate Christian minister, a devoted humanitarian and a man with "absolutely no quit in him, no matter the circumstances."
John Cao is also apparently a master of dad jokes, like the one he often tells about his Chinese name, which translates to "three talents."
"He loves to tell people the first talent is sleeping, the second is eating, and he hasn't quite figured out the third talent yet," Ben Cao told HuffPost about his dad.
But for more than a year, Ben Cao has been unable to speak to his father at all.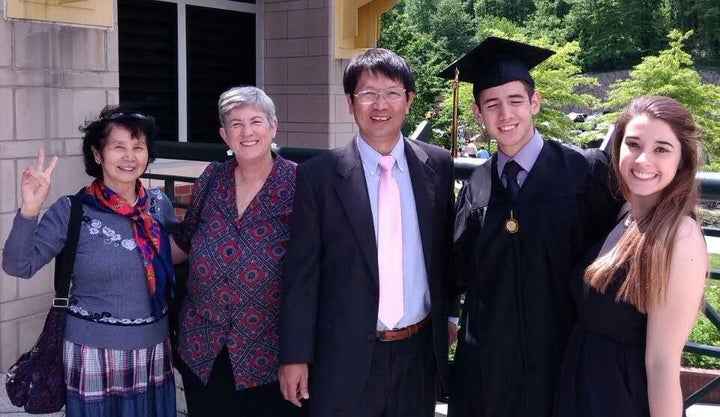 Rev. John Sanqiang Cao (center) poses in a picture
with his family. The pastor is currently impirsoned
in China. Ben Cao
John Cao is a prominent figure in China's "house church" movement, a network of small, unregistered congregations that operate independently of China's state-sanctioned religious institutions. The pastor has been held in China since March 2017, when he was arrested while traveling back to the country from Myanmar. Chinese officials charged him with "organizing others to cross the border illegally," a crime The Associated Press claimed is frequently used to indict human traffickers.
But John Cao has crossed the border many times, bringing volunteers from Bible schools he's helped build in China over to his schools in Myanmar without incident.
Now, he faces a seven-year prison sentence, which his family and supporters believe is an unwarranted punishment.
Ben Cao and his older brother, Amos Cao, are pleading with the Chinese government to show their father mercy.
"I am deeply saddened, and devastated, by the incarceration of my father," Ben Cao said. "He is my mentor, role model, friend, and support system."
Faith In China
The pastor's arrest comes during a push by Beijing to "Sinicize," or make more Chinese, the country's major religions, removing perceived foreign influences and ensuring faith leaders' loyalty to the communist government.
Although the Chinese constitution officially guarantees citizens religious freedom, religion is highly regulated in the country. The state recognizes both Protestantism and Catholicism, but requires churches to register with one of three state-sanctioned Christian religious organizations. While state churches ascribe to core Christian doctrines, they also require pastors to be politically loyal to the government and give moral sanction to its programs. The government also maintains authority over the selection of clergy.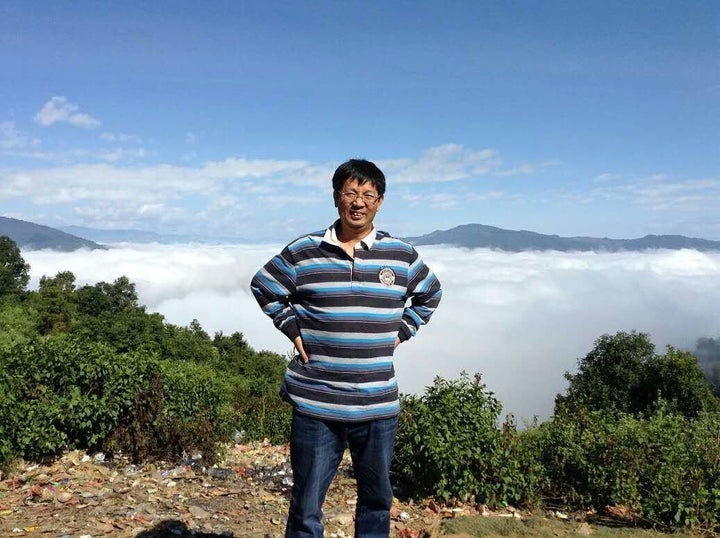 Rev. John Sanqiang Cao is a Chinese Christian
pastor and legal permanent resident of the U.S.
Ben Cao
House churches operate outside of state-sanctioned Christianity, meeting in smaller groups in living rooms, factory buildings and restaurants. A 2010 report from the Pew Research Center suggested that 35 million of China's 58 million Protestants belonged to independent house churches.
The regulation of house churches is largely left up to local party officials. Some officials harass but ultimately tolerate these unregistered churches. But in recent years, the government has been exerting tighter control over house churches ― fearing that the independent religious groups could pose threats to the party's stability. Since at least 2015, government officials have detained Christian leaders, demolished churches and cracked down on Christian gatherings and activities.
Experts say John Cao's arrest could be part of the ruling party's attempts to exert authority over these independent Christian churches.
A Pastor's Purpose
John Cao, a 58-year-old native of China, converted to Christianity in his 20s. He married an American citizen, and his two sons are also American citizens. While he established a life in America, attending seminary in New York and pastoring two Chinese congregations in North Carolina, he felt called to be a missionary in his home country.
The pastor is a legal permanent resident of the U.S., but kept his Chinese citizenship in order to "facilitate ease of travel in and out of China" according to his supporters.
Over the years, he became a prominent figure in China's house church movement. He founded more than a dozen schools in central and southern China, according to The Associated Press. At these schools, he reportedly gave students an education and training to be future Christian missionaries.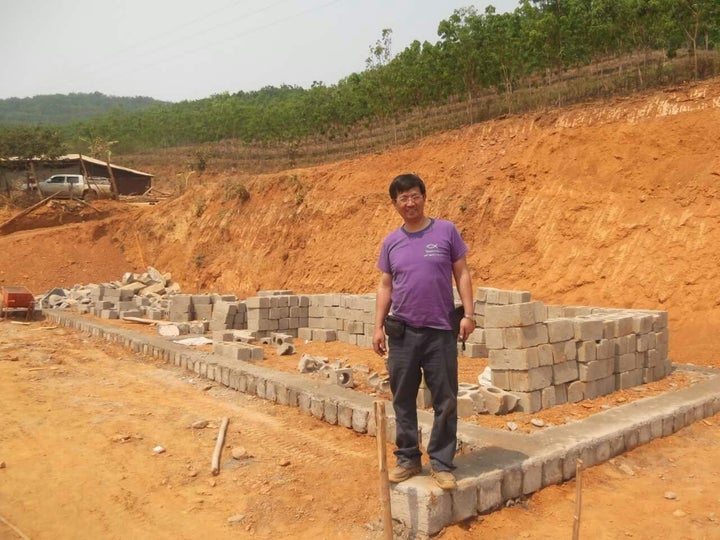 Cao has built Bible schools throughout central
and southern China and in the neighboring country
of Myanmar. Ben Cao
Around 2014, the pastor began to turn his attention to the neighboring country of Myanmar. More than 50 of his Chinese trainees volunteered to travel with John Cao to Myanmar as he expanded and built 16 schools there.
Xi Lian, an expert in Chinese Christianity at Duke University, said that there are ethnic minority populations in the Yunnan province that live along the border between China and Myanmar.
"Historically there has been a strong and warm response to Christianity among those minority peoples," Lian told HuffPost. "That is a main reason for contemporary missionary work in the area."
Ben Cao said his father's work in Myanmar was focused more on charity and humanitarian aid than the religious work he did in China.
"He dedicated three years of his life, from 2014 to 2017, to providing clothes, food, water, shelter, education and spirituality to the minority groups in the mountains of Myanmar," Ben Cao told HuffPost.
He added that his father did not attempt to hide border crossings, in which he went from Yunnan province to Myanmar's Wa region, from Chinese authorities. John Cao often made the short 30-foot trip across a river on a bamboo raft in broad daylight, per the AP. The pastor was frequently called in to meet with Chinese security agents about his work with volunteers in Myanmar.
John Cao's son believes that his father was doing what he thought was right.
"Although my father technically broke a Chinese law, there were no secrets, no illegal arrangements, and no traces of wrong-doing," Ben Cao said. "He had been conducting business in Myanmar for three years without any trouble from Chinese authorities. My father claims that the authorities were aware of their operation in Myanmar, and even helped them cross the border on occasion."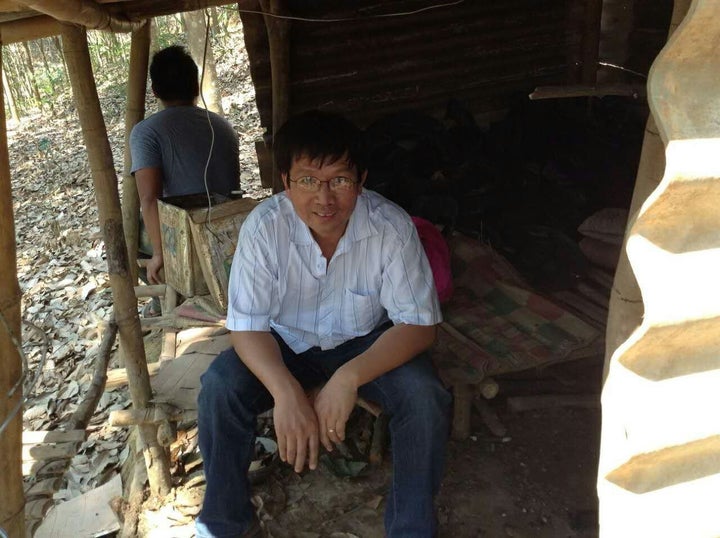 Experts say John Cao's arrest could be part of a broader
government crackdown on independent Christianity in
China. Ben Cao
A Pastor's Peril
John Cao's journey on March 5, 2017, didn't end like his previous trips. On his way back to China from Myanmar with a fellow teacher, the pastor was arrested by Chinese security agents.
He was sentenced in March 2018 to seven years in prison, a decision his lawyer is currently appealing. The Chinese Embassy in the U.S. did not respond to multiple requests for comment on John's arrest.
Lian, of Duke University, told HuffPost that John's arrest and imprisonment is "unprecedented" in recent Chinese history.
"We don't know exactly what message the Chinese government is trying to send. I suspect it is tied to the broader, nationwide efforts to stop the momentum of the Protestant movement in today's China," Lian said. "It may also have to do with enforcing the national boundary, which it sees as being undermined by the border crossings of minority peoples whose ethnic and cultural identity takes precedence over their national identity and their loyalty to the Chinese state."
Lian added that it has been harder in recent years for Chinese Christians to practice their faith freely outside official state-sanctioned churches.
ChinaAid, an American watchdog group that analyzes religious freedom in China, says that religious persecution against Chinese Christians has increased in recent years. In a 2016 report, the group claimed that more than 1,800 church leaders were detained in China that year, while another 303 were sentenced to prison terms.
Brynne Lawrence, a English editor for ChinaAid, told HuffPost that John's arrest is "definitely indicative of a wider crackdown on house churches," especially since the crime he was charged with is more commonly applied to child traffickers.
"Moreover, Pastor Cao had crossed that border many times before and had done nothing to cause arrest," Lawrence told HuffPost.
William Nee, a China Researcher for Amnesty International, told HuffPost that John Cao's sentence of seven years seems "vastly disproportionate" to any offense the pastor may have committed. He hypothesized that it could be meant as a political warning to others.
"The arrest of John Sanqiang Cao is almost certainly related to a much broader crackdown on Christianity in China, and the government's attempts to limit missionary activities and any forms of religion not under government control," Nee told HuffPost in an email. "It is tragic that a pastor engaging in humanitarian work could get swept up in such a politicized campaign."
This February, the government enacted new regulations on religion, including restricting Chinese nationals from leaving the country for religious purposes without government authorization. Pastors of underground churches have reportedly been prevented from leaving mainland China altogether, according to the AP.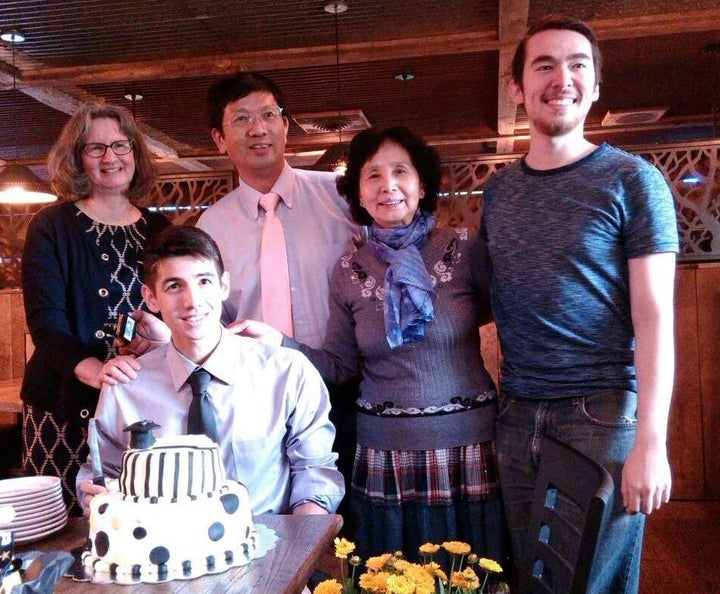 Rev. Cao poses with family members. Ben Cao
"It's part of the overall drive of the state to 'sinicize' Christianity ― by limiting the ability of the Chinese church to connect with Western Christianity," Lian said.
A State Department spokesperson told HuffPost that it is "deeply concerned" about John Cao's seven-year sentence. The spokesperson said State Department officials met with the pastor's wife when she visited China's Yunnan Province to try to see her husband and submit requests to Chinese officials about his case.
"Mr. Cao's humanitarian work to build schools and deliver food has contributed to poverty alleviation in poor, rural areas. Mr. Cao is nearly 60 years old, and his health is deteriorating," the spokesperson wrote in an email. "We continue to urge Chinese authorities to release Mr. Cao immediately on time served and humanitarian grounds, and allow him to reunite with his family."
A Family's Faith
Ben Cao said that before the arrest, his dad had planned to retire from missionary work after this trip to China. He added his father was well aware of the risks associated with missionary work in the country.
"He always knew risk of advocating religious freedom in China, but his bravery and perseverance ended up costing him his freedom," Ben Cao said.
The son said his family's next steps are to continue raising awareness about his dad's situation and about threats to religious freedom worldwide. He said he hopes to see China relax its restrictions on religions and "have an open mind" when discussing the coexistence of religion and the Chinese Communist party.
Ben Cao said he wants the U.S. government to negotiate his dad's unconditional release.
"I would love to see a response from President Donald Trump," Ben Cao said.
And although the pastor is miles away in a Chinese prison, Ben said he wants his dad to remain hopeful.
"I hope he remembers how much his children love him, and I hope he is being treated kindly, fairly, and with dignity," Ben Cao said. "My father is a great man in a world where great men are few and far between."
---
ChinaAid Media Team
Cell: +1 (432) 553-1080 | Office: +1 (432) 689-6985 | Other: +1 (888) 889-7757
Email: [email protected]
For more information, click here