■ It is clear that large-scale oppression by China of the Uighurs has been under way for years
The killing this week of Fan Jinghui, a Chinese hostage, has brought the world's most populous nation on board the increasingly crowded anti-Isis bandwagon. "Terrorism is the common enemy of human beings," President Xi Jinping declared. "China will resolutely crack down on any terrorist crime that challenges the bottom line of human civilisation."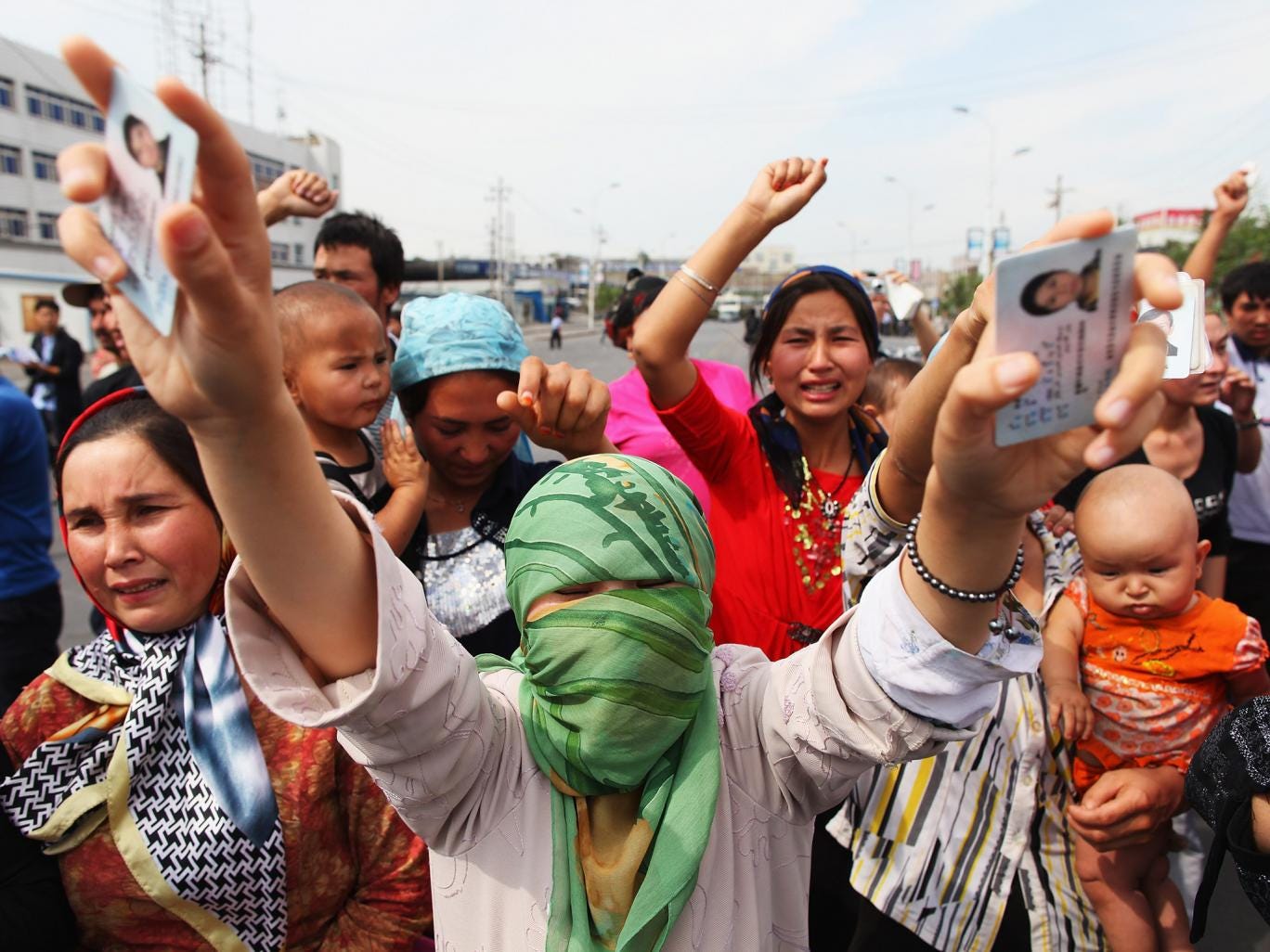 Uighur women protest against the Chinese government in
Urumqi, the capital of Xinjiang Uighur autonomous region
Getty
Sceptical Chinese quickly demanded to know how that might happen. "May I ask how the Chinese government plans to bring the perpetrators to justice?" wrote one user of Weibo, the People's Republic's answer to Twitter. "Such a strong condemnation," wrote another. "That should scare them to death."
China is the world's fastest-growing naval power, and has established a string of bases between its south coast and the Gulf of Aden, but it is unlikely to offer much of military value to the coalition. The closest it has come to gunboat diplomacy was in anti-piracy missions off Somalia. Nor does its army have any practical experience in the Middle East. But if theassets
China can bring to the anti-Isis coalition are impalpable, the benefits it hopes to derive from the association are clear.
First and foremost, it hopes to get the West to shut up about the Uighurs. Today, state media reported the killing of 28 "terrorists", allegedly members of a group that was said to have killed 16 people at a coalmine in Xinjiang, the huge, sparsely populated region in the far-west of China where the largely Muslim Uighurs, a 10 million-strong Turkic race, are concentrated.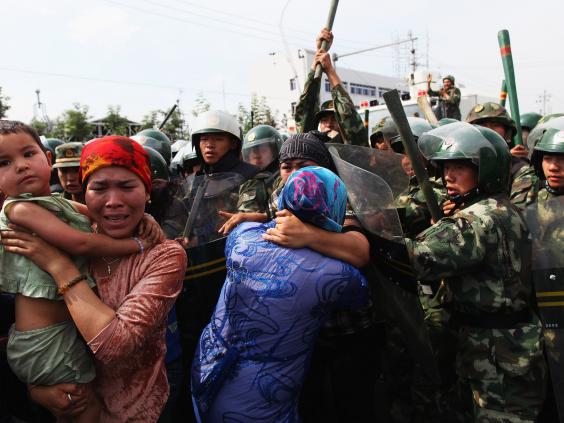 Chinese policemen push Uighur women during a 2009 protest
It was the latest in a string of incidents for which China often blames the "East Turkestan Islamic Movement" – a group that many experts believe no longer exists. The most garish of those crimes in recent years was the killing of 29 commuters in Kunming, in the Yunnan province far from Xinjiang, by knife-wielding Uighurs in March 2014.
We know little about any of these attacks besides what the state media chooses to report, because access to Xinjiang is tightly restricted. But from the information that does filter out, it is clear that large-scale oppression of the Uighurs has been under way for years. "Since 2012, law enforcement forces have killed hundreds of Uighurs in what authorities claimed were counter-terrorism operations," Sophie Richardson, China director of Human Rights Watch, has written. "But whether those killed or convicted were actually responsible for the violence…will remain unknown to the outside world."
The parallels with that other oppressed region, Tibet, where the Dalai Lama's pacific voice has kept violent resistance to a minimum, are strong. The Chinese may tar all Muslims who protest against its rule with the "jihadi" brush, but there is little evidence of Uighurs making the long trek to fight in Syria. Last year, more than 200 of them fled China and made it as far as the Thai town of Songkhla, before Thai police arrested them. China claimed they were terrorists bound for Syria but presented no evidence. It's more likely they were fleeing their homeland in search of a better life just about anywhere. In July, after intense diplomatic pressure, more than 100 of them were deported from Thailand back to China.
China now supports the coalition against Isis: does that mean we must keep quiet about its relentless, counter-productive repression of the Uighurs? It's yet another indication of the damage this war is doing to our political morality.
---
China Aid Contacts
Rachel Ritchie, English Media Director
Cell: (432) 553-1080 | Office: 1+ (888) 889-7757 | Other: (432) 689-6985
Email: [email protected]
Website: www.chinaaid.org