South China Morning Post
Alvin Lum
PUBLISHED : Friday, 13 July, 2018, 3:19 pm
UPDATED : Friday, 13 July, 2018, 10:38 pm
Benedict Rogers, founder of Hong Kong Watch group, says 'someone clearly pro-Chinese' behind letters sent to neighbours and his mother
A British human rights activist was the subject of three threatening letters posted from Hong Kong, which he said were attempts to silence him over his advocacy work for the city.
Benedict Rogers, founder of the Hong Kong Watch (HKW) group, revealed to the Post that he and neighbours in London had received two unsigned letters since March, while another anonymous letter sent to his mother last month asked him to take down HKW's website.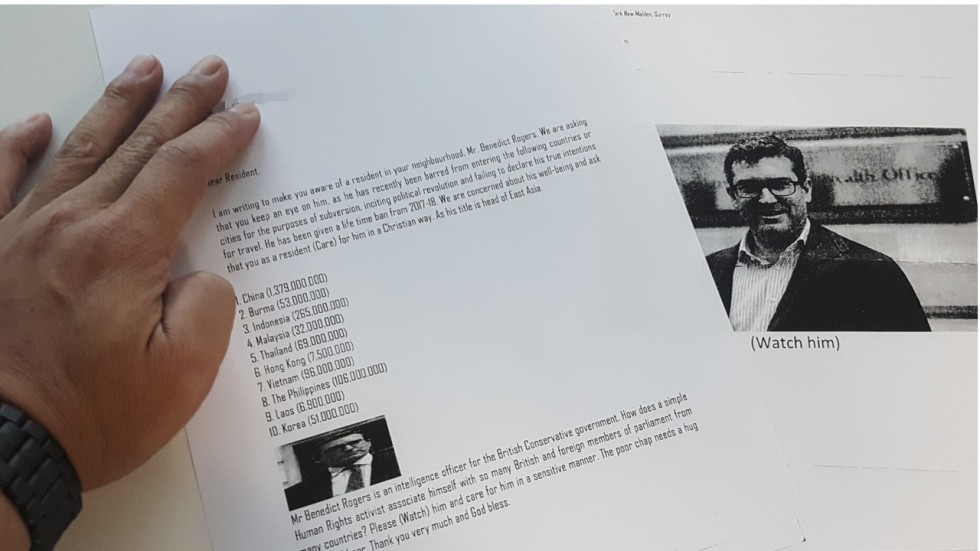 Benedict Rogers' photo was included in the letters.
Photo: SCMP
"I think it's unlikely that they'll actually do anything to me. I think they are trying to scare me, intimidate me, silence me," Rogers told the Post in a phone interview on Friday, calling the incident "uncomfortable".
He also said it was an "unacceptable" attempt to curb his freedom of expression and went against British democratic norms.
"We should never give in to such intimidation and the letters make me more determined to continue to speak up for freedoms, autonomy and human rights for Hong Kong."
He said it was "someone clearly pro-Chinese" behind these letters, which were similar to intimidating phone messages and letters sent to leaders of the pro-democracy Occupy campaign and democrats.
Rogers reported the incidents to British police and the Foreign and Commonwealth Office, and said foreign office minister Mark Field had expressed concern about the incident.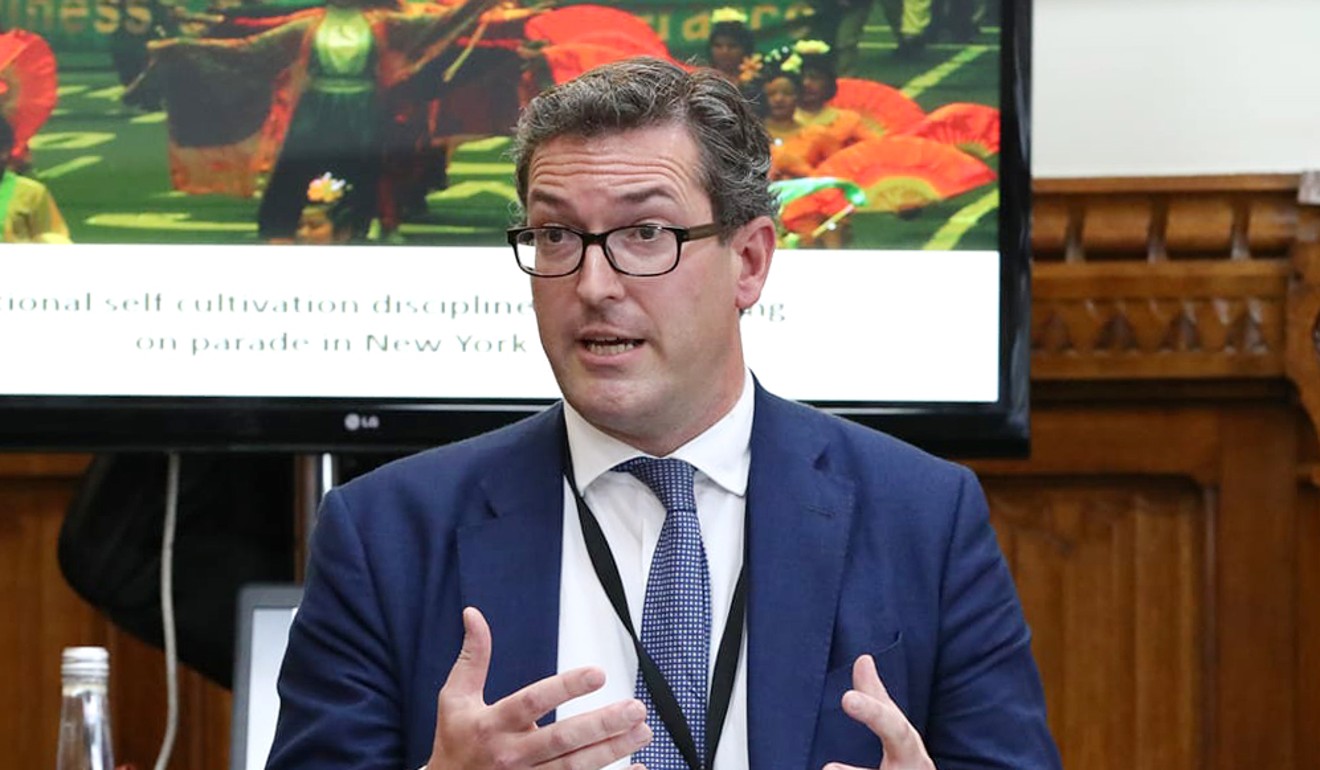 Benedict Rogers. Photo: Facebook
The letters, written in English and seen by the Post, accused Rogers, deputy chairman of the British Conservative Party's human rights commission, of "meddling" in the politics of foreign countries and Hong Kong, and mentioned his denied entry to the city last October.
The first letter, sent in March and addressed to "Dear Resident", was sent to Rogers and others living on the same street. It included Rogers' photograph and warned: "Watch him."
With a similar "keep a watch on him" message, the latest letter received on Thursday in his neighbourhood briefly listed comments by HKW or Rogers on controversial legislation recently enacted in the city and the jailing of local activists.
It also included several pictures of HKW's reception earlier this month, and attacked the British politicians who attended, including former governor Chris Patten.
Rogers' mother, who lives a 2½-hour drive from London, also received an anonymous letter in June. It said Rogers' actions bore a "crusade-like attitude" towards the sender's home country China and Hong Kong, and told him to be "mindful of his choice of words" which might affect the city's youth.
"Please ask your dearest son to take down his website, hongkongwatch," the letter said.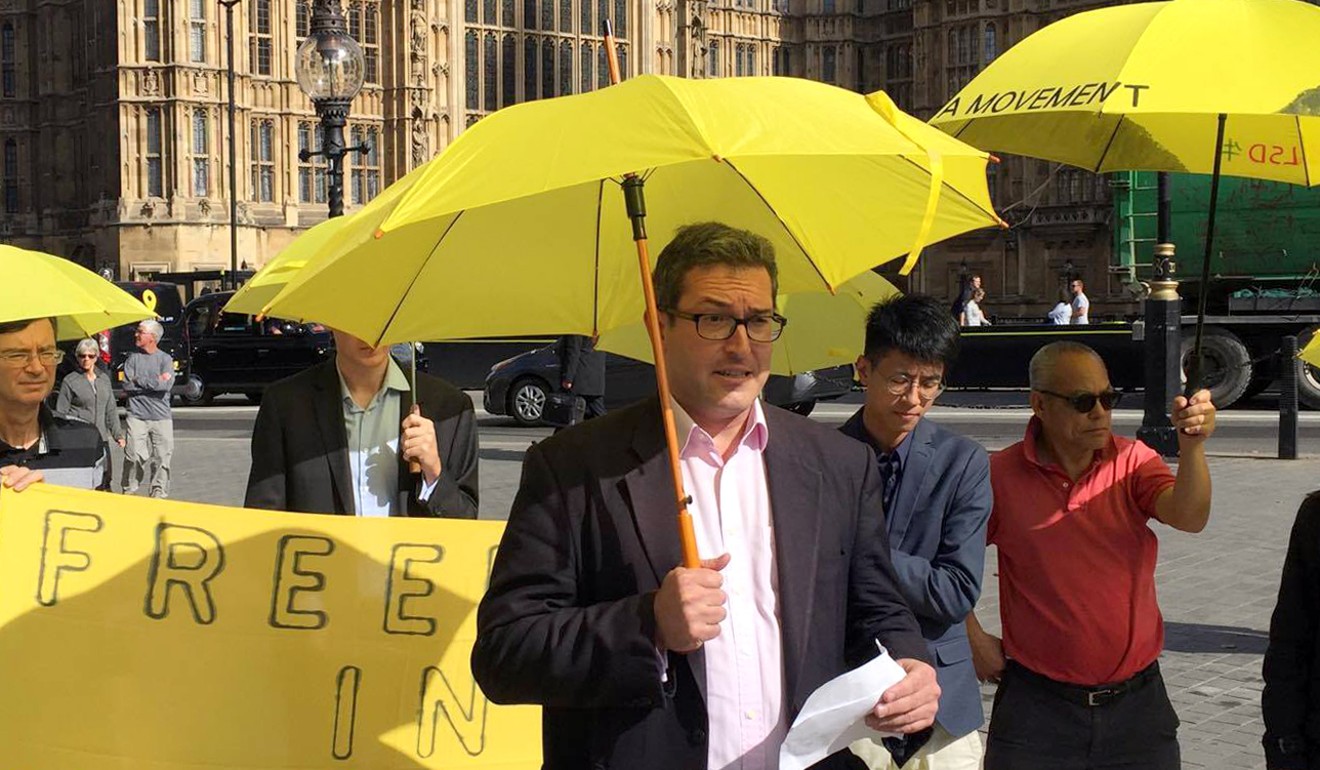 Benedict Rogers speaks at a rally calling for Hong Kong
democracy outside the Houses of Parliament in London.
Photo: Twitter
British politician Paddy Ashdown, a patron of HKW and former leader of the Liberal Democrats party, said: "Beijing's use of intimidation to mute criticism is shocking."
Ashdown, who sits in the House of Lords, added: "This is unacceptable and must be stopped."
Martin Lee Chu-ming, founding chairman of the Democratic Party, called on the Hong Kong government to do whatever it could "to bring those sending these letters to justice".
Rogers said he had never publicly released his home address, but decided to disclose the incident to send a message to the letter writers.
He stressed that his and other British citizens' advocacy for Hong Kong's freedoms was simply to ensure the British government kept its legal and moral obligations under the Sino-British Joint Declaration.
Rogers said: "Hong Kong is an international city and it is therefore in everyone's interests to protect its freedoms, autonomy and the rule of law."


This article appeared in the South China Morning Post print edition as: Threatening letters target HK rights advocate in Britain
---
ChinaAid Media Team
Cell: +1 (432) 553-1080 | Office: +1 (432) 689-6985 | Other: +1 (888) 889-7757
Email: [email protected]
For more information, click here