The Guardian
Tom Phillips in Beijing
Last modified on Wednesday 29 July 201510.51 EDT
Government official defends 'anti-church' campaign during which 1,200 places of worship have lost their crosses
A Communist party campaign during which crosses have been stripped from the roofs of more than 1,200 Chinese churches is being conducted "for the sake of safety and beauty", a government official has claimed.
Human rights activists accuse authorities in Zhejiang province in eastern China of using the protracted campaign to slow Christianity's growth in what is one of the country's most churchgoing regions.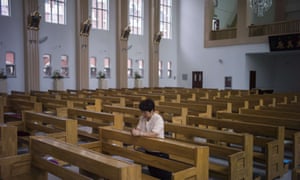 A woman prays at a Catholic church in Tianjin. More than
1,200 Chinese churches have had crosses stripped from their
roofs in recent months.

Photograph: Fred Dufour/AFP/Getty Images
By some estimates, China is now home to 100 million Christians, compared with the Communist party's 88 million members.
Since the government campaign began in late 2013, hundreds of places of worship have had bright red crosses removed. Some churches have been completely demolished, while civil servants have been banned from practising religion. Some observers suspect the campaign has the backing of the Chinese president, Xi Jinping, and could be a "pilot project" before a nationwide crackdown.
However, an official from Zhejiang's ethnic and religious affairs bureau told the state-run Global Times newspaper the government had "merely relocated the crosses out of safety concerns".
"Generally speaking, the church staff and people are very supportive [of the removals]," the official added.
In fact, there is growing anger among China's rapidly growing Christian community over the campaign, which has affected both Catholic and Protestant congregations. Last Friday, a group of Catholic clergy – including an 89-year-old bishop – took to the streets to protest. "What they are doing feels like something from the Cultural Revolution era," complained one religious leader from Zhejiang.
This week, Catholic leaders in Wenzhou, a city known as China's Jerusalem because of its large Christian population, circulated an open letter claiming the removals had got "completely out of control".
"Our diocese has been patient and reasonable – again and again we have shown tolerance, prayed, communicated and observed, hoping that the haze would clear," it said. "But they have not stopped. Rather, they have escalated the campaign and have rushed to attack the cross, the symbol of peace and love."
Addressing China's Christian population, the letter concluded: "Let us speak out."
Removals and demolitions have gathered pace in recent weeks despite such protests. A five-storey church in the city of Wenling was demolished "voluntarily", the government-controlled Zhejiang Daily newspaper announced on Sunday. The newspaper claimed the church had expanded without going through the proper approval process. "It not only affected city planning but also posed a severe threat to road safety," the report said.
The "anti-church" campaign took an unusual turn this week after claims that officials had deployed groups of incense-burning Buddhist monks to "provoke" Christians who were trying to defend their cross.
"We are Protestant Christians, so by sending monks to chant sutras they were trying to get us riled up," a member of one Zhejiang church told Radio Free Asia, a US-funded news website.
The Christian added: "They were trying to make us angry so that we would retaliate against them. They think that anyone who opposes the government is a traitor, or someone trying to overturn the Communist party."
Additional reporting Luna Lin
---
China Aid Contacts
Rachel Ritchie, English Media Director
Cell: (432) 553-1080 | Office: 1+ (888) 889-7757 | Other: (432) 689-6985
Email: [email protected]
Website: www.chinaaid.org