The Guardian
Tom Phillips in Beijing
Last modified on Monday 15 June 2015
06.30 EDT
Detention of Guo Bin and Yang Zhanqing fuels fears that country's crackdown on civil society has entered new phase of repression
Two former members of a prominent Chinese human rights group have been detained, fuelling fears that the country's crackdown on civil society has entered a new phase of repression that will see NGOs face increasing pressure.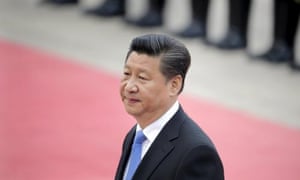 China's president, Xi Jinping, has overseen a crackdown
targeting a
variety of
groups from grassroots activists to
influential bloggers, journalists,
civil rights
lawyers and academics.
Photograph: Jason Lee/Reuters
Guo Bin and Yang Zhanqing, who had both worked at Yirenping, a public health group that offers support to people with hepatitis B and HIV, were taken into custody on Friday on charges of "illegal business operation", according to lawyers and activists.
Guo, 32, was detained as he visited his two-year-old son at a children's hospital in Shenzhen, his lawyer said.
"A nurse called him out of the ward and he didn't come back," Pang Kun told the Guardian. "Another nurse told his family he had been taken away and would not be coming back anytime soon."
Yang, 38, was detained at around 10pm at his home in the city of Huizhou, his wife, who asked not to be named, said. "The police didn't even leave me the arrest warrant when they took him."
The detentions are the latest chapter in an offensive against Chinese civil society that has been gathering pace since Xi Jinping became Communist party leader in late 2012.
Yirenping, a non-profit group that was founded in 1996, has found itself at the eye of the storm since March when it criticised the detention of five feministswho had planned to protest against sexual harassment.
The group's Beijing offices were subsequently raided with security officials seizing computers and documents.
In April, a government spokesperson said the group had "allegedly violated the law, and will be punished".
Maya Wang, the China researcher for Human Rights Watch, said: "The ongoing campaign against this key NGO signifies the Xi government's strengthened resolve to control civil society and to crack down on dissenting voices."
"The message is to instil a sense of fear among NGOs so that they don't dare do anything that could be perceived as threatening," Wang added.
"When the red line keeps moving inward and you don't really know where it is, NGOs will scale back their work significantly just to be safe. The result is a tamer civil society."
Xi's crackdown has targeted a variety of groups from grassroots activists to influential bloggers, journalists, civil rights lawyers and academics.
Public security officials are likely to be given far greater control over the activities of foreign NGOs under draft legislation that Beijing says is needed to protect "national security and social stability".
Eva Pils, an academic from King's College London who studies civil society and human rights in China, said the outlook was "very bleak" with moderate groups and individuals now finding themselves in Beijing's crosshairs.
"It's now no longer just a few radicals who are being perceived as somehow suspect and potential enemies of the state. Rather the party-state has communicated the message that actually we just don't want civil society as a whole. We don't want civil society as a potentially oppositional, liberal force within the system," she said.
Under Xi, the Communist party had used both nationalistic propaganda and the promise of action on issues such as corruption to try to reinforce its authority, said Joshua Rosenzweig, a Hong Kong-based human rights researcher.
"The repression message is: 'If you persist in criticism – in mobilising independently within society – then, in the interests of Chinese society at large, we, the party, will stop you, we will throw you in jail, we will cut off or restrict your access to the internet, we will close down your organisation.'"
"More than in recent years the party is wielding a stick to make sure that its message is received," Rosenzweig added.
Party leaders had feared the west was seeking to topple them by using foreign NGOs to incite a colour revolution for at least a decade, Rosenzweig said. But under Xi those claims had intensified.
"I don't know whether or not that reflects Xi Jinping's personal vision. But the fact that this has become such a central part of both the rhetoric and the policy under his leadership suggests that he may have something to do with it."
"It is significant that there has been such a marked increase in the kind of suspicious stance towards foreign institutions and foreign governments since he came to power."
The wife of Yang Zhanqing, one of the detained activists, said she had been allowed to visit her husband on Monday.
"He was in a good state despite having had his head shaved and wearing handcuffs," she said.
"I have nothing to be afraid of as long as they don't plant things on him."
"It is our belief that the state and government should reward these people who work for the public good, instead of framing them with fabricated crimes," Yirenping said in a statement.
"Such campaign-style repression must end," it added.
Additional reporting by Luna Lin
---
China Aid Contacts
Rachel Ritchie, English Media Director
Cell: (432) 553-1080 | Office: 1+ (888) 889-7757 | Other: (432) 689-6985
Email: [email protected]
Website: www.chinaaid.org