The Guardian
Tom Phillips
Friday 26 February 2016 00.42 EST
Last modified on Friday 26 February 2016 00.44 EST
■ Zhang Kai, who was detained six months ago, appears on TV to urge fellow human rights lawyers not to 'collude with foreigners'
Supporters of a prominent Christian lawyer who was taken into secret detention after opposing a Communist party cross-removal campaign are demanding his release after he became the latest Chinese human rights defender to be paraded on television for an alleged "confession".
Zhang Kai, 36, was seized by security forces in August 2015 just hours before a planned meeting with the US ambassador-at-large for religious freedom at which he had intended to denounce a government crackdown on churches in Zhejiang province.
Activists believe the decision to arrest the Bible-carrying attorney was designed to silence Zhang's outspoken criticism of what they have dubbed China's "anti-cross" campaign. Church groups say the campaign has affected more than 1,200 places of worship since it began in 2013.
Zhang had not been seen since his detention on 25 August but on Thursday evening he appeared in a televised "confession" broadcast by the state-controlled channel Wenzhou TV.
In an extended report, Zhang, who is the father of a baby girl, admitted to crimes including disrupting social order and endangering China's national security.
The Christian lawyer said: "I also warn those so-called human rights lawyers to take me as a warning and not collude with foreigners, take money from foreign organisations, or be engaged in activities that break the law or harm national security and interests."
Chinese media reports accused Zhang, who at the time of his arrest had been offering legal support to churches that faced having their crosses torn down, of being the "mastermind" behind a number "illegal religious gatherings".
On Friday Zhang's supporters rejected the televised "confession", something observers say has become a trademark of president Xi Jinping's escalating crackdown on dissent.
"It is utterly appalling for a person to be made to confess on the television," said Zhang Lei, a fellow human rights lawyer who has defended Zhang Kai.
"[Televised confessions] go against basic human dignity and are also a violation of the law stating that people cannot be forced to confess," he added.
In defending Chinese churches, the Christian lawyer had simply been trying to do his job by defending citizens' legitimate rights, Zhang Lei added. "They twisted and exaggerated his rights defence work into criminal behaviour."
William Nee, Amnesty International's China researcher, said Zhang's "confession" had obviously been scripted. He rejected Chinese authorities' conflation of the lawyer's legal activism and alleged collaboration with "foreign forces".
"Once again, the Chinese authorities have flipped the truth on its head, confusing black and white," Nee said.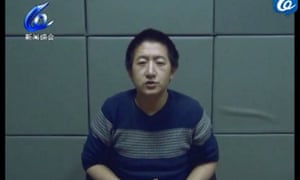 Zhang Kai, 36, appears on state-controlled TV in China to
issue a 'confession. Zhang was was taken into secret detention
in August 2015 after opposing a Communist part cross removal
campaign. Photograph: Wenzhou TV
"It is not Zhang Kai's rights defence and exposure to the outside world about what is happening in China that hurt the reputation of the Chinese government: it's the Chinese government's violations of freedom of religion – tearing down crosses, destroying churches, throwing pastors into secret detention – that hurt its image."
Nee said Beijing was attempting to show that anyone opposing its "systematic human rights violations will be crushed, will be humiliated on national television, and ironically enough in this instance, forced to repent of their supposed wrongdoings".
Christian Solidarity Worldwide's chief executive, Mervyn Thomas, also criticised the move in a statement.
"This alleged 'confession' by lawyer Zhang Kai is another concerning development in the ongoing crackdown against those who seek to peacefully uphold human rights and rule of law in China," Thomas said, referring to an an offensive against human rights lawyers that began in July 2015.
Since coming to power in 2012 Xi has presided over a stricter political regime that has affected human rights lawyers, liberal academics, journalists, bloggers and even feminist campaigners.
Earlier this year Peter Dahlin, a Swedish human rights activist who had been operating in China, was paraded on television to make what supporters described as a "forced confession". Dahlin, who had been accused of being a foreign agent trying to undermine the Communist party, was subsequently deported.
In a recent online essay, Eva Pils, a legal scholar at King's College London, said China's Communist party leaders were deliberately parading distraught prisoners on television so as to spread fear among potential opponents.
"The party-state seems intent on advertising its repression," Pils wrote.


Additional reporting by Christy Yao



---
China Aid Contacts
Rachel Ritchie, English Media Director
Cell: (432) 553-1080 | Office: 1+ (888) 889-7757 | Other: (432) 689-6985
Email: [email protected]
Website: www.chinaaid.org