The Guardian
Tom Phillips in Beijing
Wednesday 2 September 2015 04.08 EDT
Last modified on Wednesday 2 September 2015 04.27 EDT
Lawyer's detention seen as opening salvo in unprecedented clampdown on China's human rights attorneys
Wang Yu knew they would come for her. "Nobody is safe under a dictatorship," the human rights lawyer told a visitor to her Beijing home at the start of this year.
For months, friends and colleagues had urged this outspoken defender of China's voiceless to flee the country, but she resisted. "She said if they wanted to go after her they could go after her," one recalled.
Then, in the early hours of 9 July, the knock finally came. "My flat's electricity has been cut off all of a sudden," Wang, 44,
wrote in a post on WeChat.
"I heard the sound of people trying to break in." When a worried friend reached her home just a few hours later, she was gone.
Wang Yu's detention was the opening salvo in what activists call an unprecedented government crackdown on China's small but energetic community of human rights lawyers.
Over the following days, dozens of attorneys known for defending underground Christians, political dissidents and social activists
were detained or interrogated
across the country. State media accused them of forming an "organised criminal gang".
Nearly two months on, more than 20 people remain missing or in custody. "It is a very scary scenario," said Yu Wensheng, a Beijing attorney who knew Wang and spent 24 hours in custody
after speaking out over her detention
.
Yet there has been only muted public criticism from foreign governments, who fear damaging their ties with the world's second largest economy.
During a speech at Peking University last month, the British foreign secretary, Philip Hammond,
heralded the dawning of a new "golden era"
of UK-China relations and alluded only fleetingly to the developing crackdown.
"Our relationship [with China] has become sufficiently mature that we can be candid with each other in our private discussions about those areas on which we do not see eye to eye, including human rights," Hammond said.
Roderick MacFarquhar, a Harvard University expert in Chinese history and politics, said Beijing would view any foreign criticism as irrelevant. "To hell with that," he said. He said Xi Jinping saw China's activist lawyers as part of a broader threat to the Communist party's very survival and was determined to bring them to heel – whatever the world thought.
Xi believed lawyers, liberal academics, journalists and church leaders were using what he saw as incendiary western ideas about civil society, constitutionalism, press freedom and the rule of law to undermine "the absolute rule of the party", MacFarquhar said.
"I don't see
China
drifting into democracy but [Xi] is right to be alarmed that there might be some traumatic event even bigger than the Sichuan earthquake or the Shanghai meltdown which lights up the country. He doesn't know what that would be – no one does. So he wants to guard against it by putting the lawyers in jail, by putting the dissidents in jail, by attacking foreign influences like Christianity.
He added that anyone who questioned its supremacy was "fair game".
She defended feminist activists, members of the banned spiritual movement Falun Gong and
Ilham Tothi,
the respected Uighur academic who was last year jailed for life for inciting separatism.
In 2013, Wang travelled to the southern island of Hainan to help the families of six schoolgirls
who had allegedly been sexually assaulted by their headmaster.
Hoping to highlight the injustices suffered by her clients, she staged a small street protest in which she shouted: "Take up legal arms! Fight for your rights!"
Wang, who has a teenage son, knew the risks of her activism only too well. "These days people say being a lawyer is a high-risk job," she said. "Each time I go out on a case other lawyers get worried about me. They say, 'Don't go on your own. If you go alone I will worry.'" But she vowed to fight on. "The only way to be safe would be to stop what I am doing."
Some lawyers now refuse to discuss the recent detentions, apparently fearing reprisals. Others claim the repression will only inspire further resistance.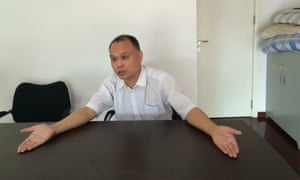 Yu Wensheng, a Chinese human rights lawyer who has spoken
out against Wang Yu's detention.

(Photo: Tom Phillips/Guardian)
"China is still an authoritarian and conservative state and somebody has to make the sacrifice," said Yu Wensheng, one of the movement's newest adherents, during an interview at his spartan office overlooking Beijing's urban sprawl.
"As far as I am concerned, we would rather face the regime's oppression than have to bear the humiliation of bowing to it. I'm much happier facing oppression than standing by watching the wrongdoing and not trying to change it. Many human rights lawyers share my view on this, I think."
Almost two months after Wang Yu was seized, her whereabouts remains a mystery.
"[Police] told us she was under residential surveillance at a designated place but refused to tell us the exact address," said her lawyer, Li Yuhan. Activists fear Wang is facing charges of "inciting subversion of state power".
Yu Wensheng said security agents were likely to have isolated his colleague in a small hotel room in an attempt to extract a false confession.
Advertisement
"It's even worse than being in a detention centre where you can at least have human contact with other inmates," said Yu, who is 48. "They interrogate you three times a day and they deprive you of good sleep. The lights in the rooms have to stay turned on even while you are sleeping and at least two people stand outside in case you run away."
Two years earlier, in the summer of 2013, Wang Yu sat in another hotel room, in the southern city of Shenzhen, and spoke of what had driven her to take on the system.
"Many people think: 'China is rich, China is developing quickly, China has tall buildings, wide highways, fancy cars,'" she said. "They don't know that Chinese people are like animals that don't have any basic rights."

• Additional reporting by Luna Lin
---
Rachel Ritchie, English Media Director
Cell: (432) 553-1080 | Office: 1+ (888) 889-7757 | Other: (432) 689-6985