The Guardian
Benjamin Haas China correspondent and agencies
Mon 25 Dec '17 23.37 EST
First published on Mon 25 Dec '17 23.25 EST
Wu Gan found guilty after being detained for two years, while fellow activist Xie Yang escaped jail after pleading guilty
A prominent Chinese human rights activist has been jailed eight years in jail for subversion on Tuesday, the harshest sentence to be passed so far in a government crackdown on activism that began more than two years ago.
Wu Gan, a blogger better known by his online name of Super Vulgar Butcher, regularly championed sensitive cases of government abuses of power, both online and in street protests. He was sentenced to eight years in prison on charges of "subverting state power" at the Tianjin no 2 people's court. He has been in pretrial detention for more than two years after staging a protest outside a court.
"The court found that the defendant Wu Gan became dissatisfied with the existing political system," according to the verdict. "Wu Gan has long used information networks to spread a great deal of rhetoric and to attack state power and the system established by the constitution."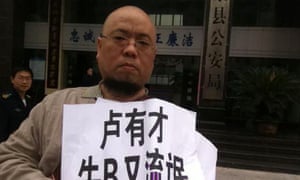 Wu Gan, also known as Super
Vulgar Butcher, pictured at a
protest in 2015, before his
arrest. Photograph: Tufuwugan/Twitter
But Wu was defiant at his sentencing, pledging to appeal his case and saying he was "grateful to the [Communist] party for granting me this lofty honour", according to his lawyer. He is known for his attention-grabbing protests, at one point posing for a photo with two knives and saying he would "slaughter the pigs", referring to corrupt officials.
On the same day as Wu's sentencing, a prominent lawyer Xie Yang was retried but not punished after he previously pleaded guilty to subversion charges. While in detention he gave an explosive account of being tortured, beaten and threatened by interrogators.
Xie was arrested more than two years ago as part of a sweeping crackdown on human rights lawyers and activists that saw nearly 250 people questioned or detained by authorities. Wu was detained two months earlier.
That crackdown represented an unprecedented attack on lawyers who took on politically charged cases at the same time president Xi Jinping said he wanted to strength the rule of law in China.
Rights groups condemned the sentencing over the Christmas period, a common tactic for Chinese courts when sentencing high-profile dissidents. Liu Xiaobo, the Nobel peace prize laureate, who died in custody in July, was sentenced to 11 years for subversion on Christmas Day 2009.
"It is disgraceful that the Chinese authorities have chosen the day after Christmas to deal with two of the remaining people left in legal limbo from the unprecedented July 2015 crackdown on human rights lawyers and activists," said Patrick Poon, a researcher at Amnesty International in Hong Kong. "Carrying out unfair trials and politicized sentencing of human rights defenders at the very time when diplomats, journalists, international observers and the general public are less likely to be able to respond reeks of a cynical political calculation".
"By trying to avoid scrutiny from the press and the international community, the Chinese government betrays the fact it knows well these sham trials cannot withstand scrutiny," Poon added.
Before his trial, Wu predicted a harsh sentencing for refusing to cooperate with the authorities.
"I will be convicted not because I am really guilty, but because of my refusal to accept a government-appointed lawyer, plead guilty in a televised propaganda confession, and for exposing torture, mistreatment and violence and prosecutorial misconduct," he said in a statement released through his lawyers ahead of his trial in August.
---
ChinaAid Media Team
Cell: +1 (432) 553-1080 | Office: +1 (432) 689-6985 | Other: +1 (888) 889-7757
Email: [email protected]
For more information, click here