The Washington Free Beacon
By: Morgan Chalfant
October 10, 2016 5:00 am
■ Commission: U.S. needs plan to respond to crackdown on activists, religion, freedom of press
The Chinese government has cracked down on human rights more severely over the last year, according to a commission of lawmakers and Obama administration officials, at the same time the United States has sought to cooperate with Beijing on issues such as climate change.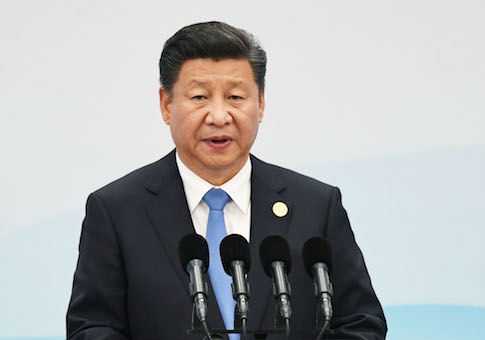 Chinese President Xi Jinping / AP
China's persistent violations of international human rights standards warrant a stronger response from the U.S. government and need to play a larger role in America's foreign policy, the Congressional-Executive Commission on China said in its annual report delivered to President Obama last week.
Over the past year, "the Chinese Communist Party and government further restricted the limited space for peaceful expression, religious activity, and assembly with harsh consequences for rights advocates, lawyers, and civil society, and continued to implement the world's most sophisticated system of Internet control and press censorship, affecting both domestic and foreign journalists," the comprehensive 340-page report states.
As of May 2016, authorities in China had arrested at least 20 people in under a year as part of a crackdown on lawyers and human rights advocates, according to the commission. Sixteen of the individuals were jailed for allegedly "endangering state security."
"The government routinely denied medical treatment to imprisoned activists, targeted family members and associates of rights activists, including those overseas, with harassment and retribution, and became more brazen in exerting its extraterritorial reach," the report states. "The government also continued harsh security measures that disregarded the protection of human rights in ethnic minority regions including Tibetan autonomous areas and the XUAR [Xinxiang Uighur Autonomous Region]."
Human rights abuses in China have long been a concern of the United States and members of the United Nations and European Union. At the same time, the United States has prioritized cooperation with China on issues such as climate change and the Iran nuclear deal.
China regularly rejects criticism of its human rights record from other countries.
According to the commission, U.S. government officials need to more frequently raise issues of human rights in China publicly and privately in conversations with Chinese counterparts. The commissioners also recommended that the administration and Congress consider legal and legislative action to retaliate against human rights abusers, such as using law to deny U.S. entry visas to Chinese officials connected to severe human rights violations such as torture and detentions.
The administration and lawmakers need to develop a "whole-of-government" action plan on the role of human rights in the U.S.-China relationship. The plan would inform each agency of how to approach the issue in interactions with Beijing, according to the commission.
"A 'whole-of-government' human rights diplomacy prepares all agencies interacting with Chinese government counterparts to discuss relevant human rights and rule of law issues and to articulate the link between human rights improvements in China and U.S. economic, security, and diplomatic interests," the report states.
The commission is currently chaired by Rep. Chris Smith (R., N.J.) and Sen. Marco Rubio (R., Fla.). It is comprised of a bipartisan group of lawmakers as well as officials from the Departments of Labor and State. The commission was established through legislation in 2000 and tasked with monitoring developments in human rights and rule of law in China.
"China, under the leadership of President Xi Jinping, is less free, more repressive, and increasingly dismissive of international norms," the lawmakers wrote in a letter to Obama accompanying the report. "Promoting human rights and the rule of law must be a cornerstone of U.S. foreign policy, as concrete improvements in these areas are directly linked to the security and economic well-being of both the United States and of China."
The report comes ahead of the 15th anniversary of China's joining the World Trade Organization, or WTO. It noted that Beijing has failed to implement anticipated legal reforms since joining. The report recommended that the administration continue to list China as a "non-market economy," meaning that competitors can more easily impose anti-dumping measures on Chinese exports.
U.S.-China relations have been complex and tense as part of Obama's so-called "pivot to Asia." One month ago, Obama and Xi marked the formal adoption of the Paris climate accord ahead of the G-20 Summit in Hangzhou, China, which was overshadowed by a series of embarrassingincidents for the American president showcasing strained relations between the two countries.
In addition to human rights abuses, China's island-building campaign in the South China Sea has drawn international criticism and prompted the U.S. military to increase its presence in the region. Still, the administration has been criticized for not doing enough diplomatically and militarily to deter Beijing's territorial claims over the South China Sea.
---
ChinaAid Media Team
Cell: (432) 553-1080 | Office: 1+ (888) 889-7757 | Other: (432) 689-6985
Email: [email protected]
For more information, click here