The Washington Free Beacon
By Daniel Wiser
September 25, 2015 4:58 am
Religious activist: 'In our country, these people would be called heroes. In China, they're in prison'
President Xi Jinping, set to visit Washington for an official state visit on Friday, is sponsoring the most severe repression of China's civil society since the Cultural Revolution of 1966-1976, according to rights activists who have also criticized the Obama administration's efforts to become a closer economic partner with Beijing.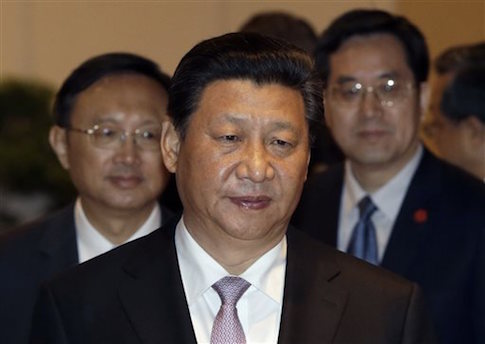 Xi Jinping/AP
Since becoming leader of China's Communist Party in 2012 and president the following year, Xi has launched a sweeping crackdown against all forms of dissent from the government. Human rights groups estimate that more than 2,000 activists have been harassed, detained for some length of time, or tortured by authorities as a result of their advocacy. Human rights lawyers, journalists, non-government organizations(NGOs), citizen activists, Christians, and minority Tibetans and Uyghurs have all been targeted.
Kody Kness, vice president of the Christian human rights group China Aid, said on Wednesday at a Capitol Hill event that the first three years of Xi's authoritarian rule "have been the worst three years in decades."
"It's an unprecedented crackdown on those seeking religious freedom and those seeking freedom of expression, at a level not seen since the Cultural Revolution," he said.
Mao Zedong's Cultural Revolution, in which the dictator incited a youth rebellion against other leaders of the Party and accused them of straying from communist ideology, ultimately resulted in about 1.5 million deaths and the imprisonment or harassment of millions of others.
As the son of a senior Party official who was targeted during the Cultural Revolution, Xi learned to value stability and solidarity among the ruling class, rather than internal division. He has sought toroot out corrupt officials and potential rivals from the Party, promote a return to ancient Chinese values of morality and respect for authority, and encourage the repudiation of Western notions of freedom, democracy, and human rights. Dissidents, who often embrace those Western values as universal rights, have thus faced a new wave of repression under Xi.
In a speech this week, Susan Rice, President Obama's national security adviser, said that differences between the United States and China on issues such as human rights and cyber security will not be "papered over" during Xi's visit. However, activists say that while U.S. officials often raise concerns about human rights abuses to their Chinese counterparts, the issue is treated as secondary in importance to other economic and security discussions.
"Do you raise [human rights] just to check the list of issues, or do you raise an issue because you know it's important?" said Bhuchung Tsering, vice president of the International Campaign for Tibet, at the China Aid event.
Some dissidents have urged the Obama administration to cancel the summit with Xi unless all political prisoners are released. More than 20 human rights lawyers and activists remain in detention as part of a crackdown that began in July, joining hundreds of other political and religious prisoners.
Obama has previously expressed the view that more economic engagement with China could lead to more political freedom in the country. "There has been an evolution in China over the last 30 years since the first normalization of relations between the United States and China," he said at a 2011 press conference with Hu Jintao, the former president of China. "And my expectation is that 30 years from now we will have seen further evolution and further change."
A group of CEOs from top American companies, including Apple, Facebook, and Goldman Sachs,urged Obama and Xi last week to complete a bilateral investment treaty that would further cement a "positive and enduring commercial relationship, which is an essential anchor for global economic growth."
Yet activists say that while the U.S. engagement policy has generated billions in profits for both American and Chinese businesses, it has not resulted in greater freedom for the Chinese people or regional stability. Yang Jianli, president of the group Initiatives for China, said at a hearing last week for the Congressional-Executive Commission on China that it is "both morally corrupt and strategically stupid" to support a regime that "ruthlessly represses its own people, denies universal values to justify its dictatorship, and that challenges the existing international order to seek its dominance."
"China uses its economic power gained with the help of the West to build a formidable, fully modernized military, that has reached every corner of the earth," he said. "With this unprecedented power, China is now forcefully demanding a re-write of international norms and rules."
Sen. Marco Rubio (R., Fla.), a Republican presidential candidate and staunch critic of the administration's China policy, has said that U.S. officials must take measures to penalize Beijing for human rights abuses, including visa bans for rights violators.
"[Obama] has hoped that being more friendly with China will make it more responsible," Rubio wrotein a recent Wall Street Journal op-ed. "It hasn't worked."
"To achieve a new era of productive relations between our nations, America must stand on the side of the Chinese people rather than their autocratic rulers," he added.
Activists have called on Obama to at least raise the specific names of political prisoners in meetings with Xi, both privately and publicly. They say that applying public pressure on the Party often leads to better treatment for detainees.
Top administration officials have previously been criticized for not mentioning the specific cases of prisoners in public, such as with the prominent human rights lawyer Gao Zhisheng. Gao, who says he has been tortured and detained several times by authorities in the last decade, was reportedlykidnapped again on Thursday after recounting his persecution to the Associated Press.
"In our country, these people would be called heroes," Kness said. "In China, they're in prison."
Xi will only feel more emboldened to repress dissenters if Obama does not aggressively press him on human rights abuses, said Rebiya Kadeer, president of the World Uyghur Congress, at the China Aid event.
"If President Obama and his administration do not raise human rights violations and the repression of all religions and ethnicities under Chinese dictator Xi Jinping, than Xi will see this in a way, the silence of the U.S., as a green light to further repress," she said.
---
China Aid Contacts
Rachel Ritchie, English Media Director
Cell: (432) 553-1080 | Office: 1+ (888) 889-7757 | Other: (432) 689-6985
Email: [email protected]
Website: www.chinaaid.org