The Washington Times
By Bradford Richardson – The Washington Times – Wednesday, June 6, 2018
Watchdog groups say the persecution of Christians and other religious minorities in China is at its most intense since the Cultural Revolution, as churches are shuttered, Bibles confiscated and believers arrested at rates not seen in decades.
Evidence of the crackdown was in plain view this week, when police raided Early Rain Covenant Church, an underground parish in the southwestern Sichuan province, to preempt a memorial service commemorating the 29th anniversary of the Tiananmen Square massacre of anti-government protesters.
According to ChinaAid, an advocacy group that documents human rights abuses in the communist nation, 17 people were violently detained, including Pastor Wang Yi and his wife, who attempted to block the door.
Pastor Bob Fu, founder and president of ChinaAid, said the number of people arrested in China for exercising their religious freedom "has reached the highest level since the end of the Cultural Revolution." He cited internal figures showing a nearly fivefold increase in the number of Christians who were persecuted by the government last year.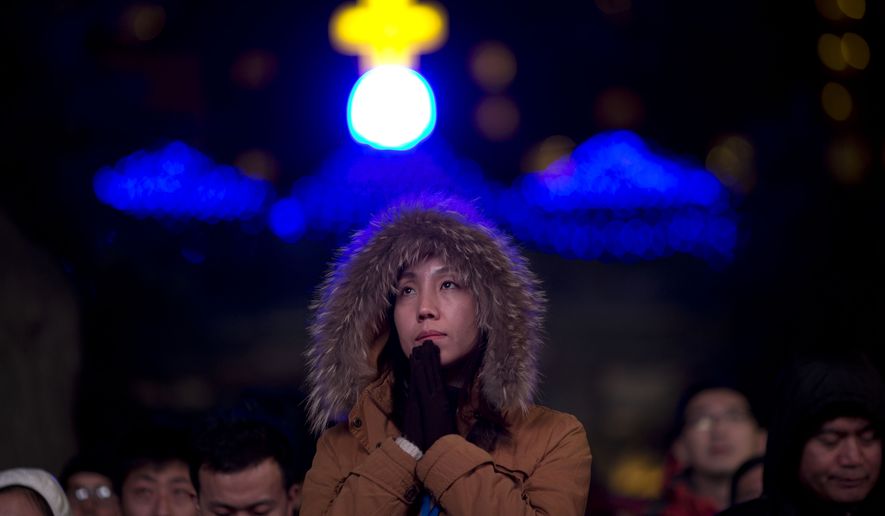 A Chinese woman prays as she takes part in a mass on
the eve of Christmas at the South Cathedral official
Catholic church in Beijing, China, Wednesday, Dec. 24,
2014. Estimates for the number of Christians in China
range from the conservative official figure of 23 million
to as many as 100 million by independent scholars,
raising the possibility that Christians may rival in size
the 85 million members of the ruling Communist Party.
(AP Photo/Ng Han Guan) Photo by: Ng Han Guan
"For Christians alone, last year we documented persecution against 1,265 churches, with the number of people persecuted over 223,000. And that is just the tip of the iceberg," Mr. Fu said. "In 2016, there were 762 cases of persecution, according to our documentation, with the number of people persecuted 48,000. It really is almost five times [as much]."
He said ChinaAid knows of 3,700 Christians who were arrested in 2017, up from 3,500 the previous year. Some religious dissenters and human rights activists have been detained for years, Mr. Fu said, with their families left to wonder if they are still alive.
The spike in Christian persecution comes as critics say political and religious freedoms have been curtailed under the leadership of President Xi Jinping, who Mr. Fu said will go down in history as "a sort of Chairman Mao, Jr.," who carried out a "little Cultural Revolution."
New Regulations for Religious Affairs went into effect on Feb. 1 requiring houses of worship to register with the government.
Mr. Yang, the pastor arrested on Monday, had been a vocal critic of the regulations. He told China Source earlier this year that the intended effect of the legislation was to "limit citizens' religious activity to the time and location [the government] decides."
"Ultimately, my position is quite simple," Mr. Yang said. "As far as faith is concerned, these new regulations are evil; as far as the constitution is concerned, they are illegal; as far as politics are concerned, they are foolish. As the pastor of a house church, I intend to peacefully reject this regulation's legitimacy and implementation."
Mr. Fu said persecution against Christians had increased dramatically since the Feb. 1 regulations took effect.
"Since that time there have been thousands of churches banned," he said. "We haven't even had time to count them."
The U.S. State Department released a report in April that again singled out China as one of a handful of nations tagged as flagrant abusers of their citizens' right to religious freedom.
The report found that the Chinese government was carrying out a "far-reaching strategy to control, govern, and manipulate all aspects of faith," including using torture to "force confessions and compel individuals to renounce their faith."
In a press conference last week, Secretary of State Mike Pompeo said the United States would not "stand by as spectators" to these sorts of atrocities.
"We will get in the ring and stand in solidarity with every individual who seeks to enjoy their most fundamental of human rights," Mr. Pompeo said in his brief remarks.
Angry reaction
Like many other targets of the State Department religious freedom report, China reacted angrily to the U.S. criticisms.
"The so-called report by the U.S. is fraught with political biases against China and slanders China's religious policy," Foreign Ministry spokeswoman Hua Chunying told reporters at a May 31 briefing. "The nonsense is not even worth refuting."
"The Chinese government protects its citizens' freedom of religious belief in accordance with the law," Ms. Hua said. "… We urge the U.S. to look squarely at and respect the fact, discard biases, and stop issuing such report and using the religious issue to interfere in China's internal affairs.
There are nearly 100 million Christians in China, but they still represent a small fraction of the country's 1.4 billion citizens.
A recent survey published by Gallup International found that China is the least religious country in the world. The report found that more than two-thirds of Chinese citizens identify as atheists, more than double the percentage found in any other nation. An additional 23 percent say they are non-religious, according to the survey, and only 9 percent say they are religious.
Mr. Fu said the government has used a number of tactics to suppress religious expression in China, from cutting off the electricity and water in churches to demolishing them outright. In January, government officials dynamited the Golden Lampstand Church, one of the largest evangelical churches in the northern Shanxi province.
Other strategies include razing crosses from the horizon, confiscating Bibles or censoring certain passages, installing pulpit cameras that can recognize faces and sending believers to "re-education camps."
In February, more than 100 Christians and other religious minorities were sent to these camps, also known as "mind-transforming centers," in the northwestern Xinjiang region, World Watch Monitor reported.
One woman said she lost contact with her husband, the leader of a community of Christians who come from Muslim backgrounds, after he was sent to one of the re-education centers.
"I don't know where my husband is right now, but I believe that God still uses him in prisons or camps," she told World Watch Monitor. "Sometimes I am worried that he doesn't have enough clothes to keep warm in the prison."
Last month, Chinese police carried out a raid on at least five houses of worship in the eastern Shandong province, seizing more than 1,100 Bibles and other "illegal" publications.
And last year, the government in China's coastal Zhejiang province ordered the installation of cameras and other surveillance equipment in churches purportedly to combat terrorism, ChinaAid reported. Hundreds of police officers converged on churches in the area to carry out the order, beating and arresting Christians who resisted.
Mr. Fu said Western governments and corporations could be applying more pressure on the communist regime. He condemned Apple for agreeing to comply with regulations that would give authorities easier access to text messages, emails and other data stored by Chinese citizens in the iCloud.
"I hope President Trump can tweet about this," Mr. Fu said. "It's already a human rights disaster."
---
ChinaAid Media Team
Cell: +1 (432) 553-1080 | Office: +1 (432) 689-6985 | Other: +1 (888) 889-7757
Email: [email protected]
For more information, click here