CNN: By Lara Farrar, for CNN June 15, 2012 — Updated 0223 GMT (1023 HKT)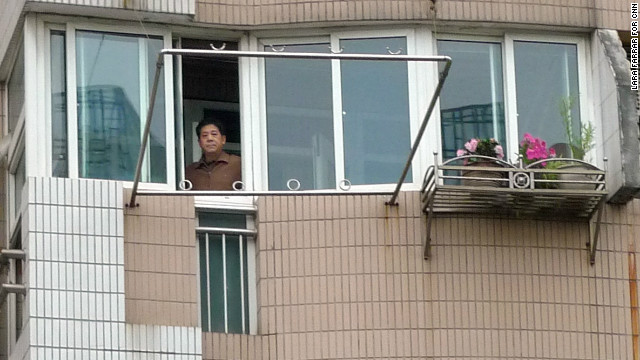 Security has tightened for dissident Feng Zhenghu since the April escape of blind Chinese activist Chen Guangcheng.
(CNN) — Since the high-profile escape of a blind Chinese activist in April, life has become worse for Feng Zhenghu, a dissident who lives in an apartment on the outskirts of this Chinese metropolis.
Feng, 57, is a human rights activist who garnered international media attention after living for three months in Tokyo's Narita Airport in 2009 while the Chinese government repeatedly stopped him from returning to the country. He has been living in Shanghai under house arrest for more than two years.
Since Chen Guangcheng, the blind dissident, dramatically escaped from home confinement in northern Shandong Province, the layers of security around Feng's apartment have multiplied. "They are very worried right now that in Shandong a blind person could escape such heavy security," said Feng, who ran afoul with authorities for his work helping people fight forced land evictions in China. "They are afraid I might run away too, and then they [security officials] will all lose their jobs. Their days are not easy right now."
Now, no
t one, but two police cars sit in front of his apartment everyday, all day. New security cameras and bright lights have been installed at the gate of the complex where Feng lives. There are more than a dozen guards watching him around-the-clock instead of only four or five guards in the past.
Feng, who is reachable via cellphone in his apartment, says that he is "living evidence" that government officials have become increasingly paranoid that other dissidents, too, might find a way to escape. "[After Chen Guangcheng's escape], they even sent somebody to the roof of my apartment building to check if I could go to the roof," Feng said.
"They can come to my home anytime without notice as they please. I have no privacy. I don't know why the government thinks I am such a threat and a demon and is so angry by my behavior."
Chen, who sought refuge in the United States Embassy in Beijing after his escape and is now in New York City, has detailed how he and his family — who were forced to stay in a farmhouse in the Shandong Province for 19 months — faced brutal treatment from local authorities.
In its annual report on global human rights last month, the U.S. State Department said there'd been a "deterioration in key aspects of human rights" in China, including detentions without charge. Beijing countered with a report of its own, criticizing the high level of gun violence in the U.S. and the country's military action overseas. "The United States' own tarnished human rights record has made it in no condition, on moral, political or legal basis, to act as the world's 'human rights justice,' to place itself above other countries and release the Country Reports on Human Rights Practices," said the report, released by China's State Council Information Office.
Zakaria: China calls out 'overcritical' U.S.
Feng is "one of countless individuals who suffer this same kind of abuse and indignity" in China, said Phelim Kine, a senior Asia researcher with the New York-based Human Rights Watch.
Zheng Enchong, a human rights attorney, has been under house arrest in Shanghai since he was released from prison in 2006, Kine said. Liu Xia, the wife of the 2010 Nobel Peace Prize winner Liu Xiaobo, "has disappeared," Kine said. After rights activist Hu Jia was released from a 42-month prison sentence for state subversion, he and his wife, Zeng Jinyan, have been under constant surveillance in Beijing, according to Human Rights Watch.
"It is absolutely appalling. It should not be happening. It goes against any semblance of conception of rule of law, which is part of the Chinese government's mantra," Kine said.
"You can bet the order that has gone out is clamp down on everyone so that there are no more Chen Guangchengs, no one is stepping out of line. It is only going to get worse in the months ahead," he added, referring to once-a-decade transfer of leadership at the top. President Hu Jintao and Premier Wen Jiabao are both in their final year of office.
Feng's situation is not dissimilar to Chen's, but it is different. Chen's detainment was in a rural village while Feng's third-floor apartment is across from a mega shopping mall with a couple of Starbucks, a Kentucky Fried Chicken, Wal-Mart, H&M and other Western brands. His home is also just down the street from Fudan University, one of China's top colleges, where Feng studied.
Unable to deal with the constant surveillance, Feng's wife recently left for Germany. "The police come all of the time without notice and just take whatever stuff they want," he said. "I don't have many things left for them to take, but they are here to give me pressure and make me feel insecure. It is no different than prison to me."
The only instance of violence Feng has encountered with his guards was an argument over the right to go outside to get fresh air, he said.
"I asked them many times, but they still would not let me," Feng said. "So I rushed out my door and one guy tried to stop me. We fell together and rolled down the stairs. We both were hurt very badly. My knee was injured, and I had to stay in bed for a week."
Feng is now allowed to go outside every afternoon for half an hour.
Besides fighting for time outside, Feng also fights boredom. A neighbor who visits the dissident when he is outside in the afternoon said that Feng and his guards usually talk about cooking, what is hot on television and how to stay healthy.
"How to cook fish, that was yesterday's topic," said the neighbor, who requested he only be identified by his English name, Georgie. "The subjects are very broad, and also the information that Feng Zhenghu can get is very limited, so they are one of the sources for him to know the news."
Asked by a reporter, the guards wouldn't comment on why they are here. Police in Yangpu District, which is where Feng lives, directed CNN inquiries to the press office of the Shanghai police. Calls to that office went unanswered.
Feng's neighbor said that most of the guards are migrant workers from provinces around Shanghai and make about 1,700 yuan ($266) per month. "It is just another job for them, a way for them to earn money," he said.
"If I escape, the guards, the local public security bureau chief, the district governor, they will all lose their jobs," Feng said. "I have been with them for two years, and I understand them. It is also hard for them, so I don't try to run away. It is a pretty hard life for them as it is for me."
He added: "If I ever get free, I will stay in Shanghai and continue defending the law. That is my life-long work."
http://edition.cnn.com/2012/06/14/world/asia/china-detention-feng-zhenghu
---
China Aid Contacts
Rachel Ritchie, English Media Director
Cell: (432) 553-1080 | Office: 1+ (888) 889-7757 | Other: (432) 689-6985
Email: [email protected]
Website: www.chinaaid.org