Voice of America
Joyce Huang
December 24, 2015 3:59 AM
■ As China's Christians prepare for the Christmas holiday, this year some are without their place of worship because of an ongoing crackdown by authorities.
After its forced closure on December 10, Huoshi Church, the largest unregistered house church in Guiyang, Guizhou province, remains off-limits to its 700-member congregation.
That has deeply disappointed lead pastor Su Tianfu and many of his congregation, who have since 2009 gathered together to celebrate the holiday marking the birth of Jesus Christ.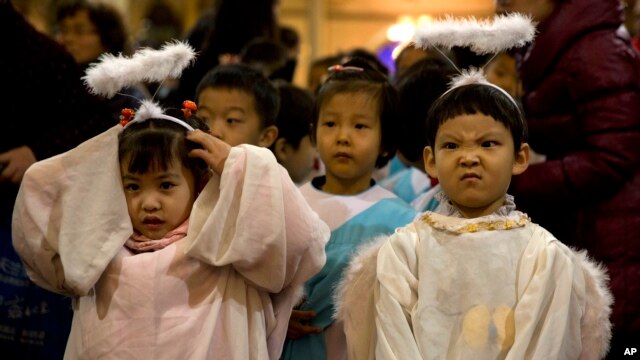 File – Children dressed as angels take part in a mass on the
eve of Christmas at the South Cathedral official Catholic
church in Beijing, China, Wednesday, Dec. 24, 2014.
This year authorities are keeping an eye on the church's leadership, ensuring that none of them will organize any related events.
"Our congregation can only gather in small groups of a few people at home. The church is disallowed to organize any events," Su told VOA.
"Many of our fellow workers are given no freedom because they're either under the watch of [agents] outside their doors or followed wherever they go," he added.
More arrests
In the past two weeks, Su himself has often been summoned by local police for questioning of up to 10 hours, even when he was suffering pains from kidney stones.
On Wednesday, an official from the office of the U.S. Consul General in Chengdu met with Su, who, however, declined to reveal their discussion as authorities have since forbidden him from meeting with any foreign delegates.
The church's other pastor, Yang Hua, has remained in criminal detention on charges of "illegal possession of state secrets," according to Su. Yang was arrested after he refused to let the police walk away with the church's surveillance footage during a raid two weeks ago.
Several church-goers were also arrested, two of whom have been released, while the status of another remains unclear. Yu Lei's family says they still do not know where he is being detained.
The Huoshi church may remain closed indefinitely unless laws are revised to allow the legal registration of house churches nationwide or their independent existence outside the government-controlled Christian affiliations, Su said.
Tough year for China's Christians
As 2015 draws to a close, many rights groups, including U.S.-based China Aid, have concluded that it has been one of the worst years for religious persecution and human rights abuse in China, with a growing crackdown on Christians, lawyers and dissents.
File – Believers take part in a weekend mass at an
underground Catholic church in Tianjin.
But, in spite of China's anti-church efforts, Bob Fu, founder of China Aid, said that he is optimistic that the growth of Christianity in China will continue, citing his personal experience of having been persecuted in China before he fled to Hong Kong in 1996 and later to the U.S.
"The more persecution there is, the more revival the churches will be. I do think, after this persecution, there will be more Huoshi Church comes [coming] out. They may not call the name Huoshi Church, but there will be more revival among the believers," Fu said.
Yang Fenggang, a sociology professor at Purdue University, once predicted that the population of Christians in China might reach 240 million by 2030.
Currently, there are an estimated 70 million Chinese Christians, far greater than the official figure of 23 million under the country's party-run system.
And field studies of Yu Jiangrong, a professor with the Chinese Academy of Social Science (CASS) in Beijing, put the number of Christians at close to 100 million. That rapid growth of a religion with "foreign origins" has intimidated the country's 88-million-strong Community Party, which has long favored traditional Buddhism and Confucianism.
---
China Aid Contacts
Rachel Ritchie, English Media Director
Cell: (432) 553-1080 | Office: 1+ (888) 889-7757 | Other: (432) 689-6985
Email: [email protected]
Website: www.chinaaid.org