Voice of America
By Hu Wei
June 24, 2016 12:00 am
■ China continues to harvest organs from prisoners on a massive scale, according to a new report that finds prisoners of conscience, including Falun Gong practitioners, remain the primary target.
In 2006, Canadian human rights lawyer David Matas and former Canadian Asia-Pacific Secretary of State David Kilgour began an investigation into accusations of the Chinese government's role in harvesting the organs of Falun Gong practitioners.
Their published findings, "Bloody Harvest: Revised Report into Allegations of Organ Harvesting of Falun Gong Practitioners in China," attracted international attention.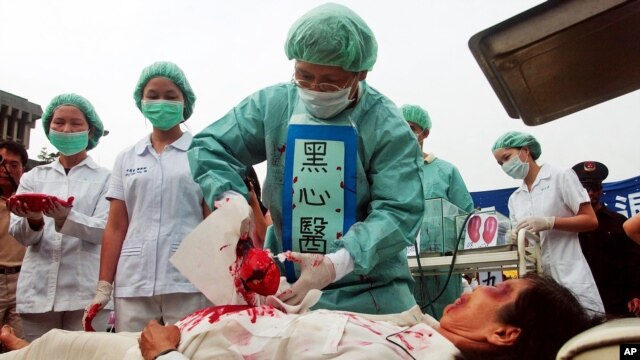 File – Falun Gong practitioners simulate organ harvesting in a
mock Chinese labor camp in front of the Presidential Office in
Taipei, Taiwan, April 23, 2006, in protest against China's
suspected abuse and killing of Falun Gong members.
On Wednesday, they published an even more comprehensive report that finds the scale of organ harvesting has significantly increased. According to these latest findings, the number of China's annual organ transplant surgeries far surpasses Beijing's official estimate of 10,000.
"We look at individual hospitals that do transplants through their websites, their publications, their newsletters, their back calendars and patient volume and so on, and at a variety of indicators going hospital by hospital," Matas told VOA. "There are around 900 hospitals that do transplants. We don't give a specific figure but we can say it is much larger than the 10,000 a year — at minimum 60,000 a year and probably more than that."
China's former Health Minister Huang Jiefu once stated that, prior to 2014, executed prisoners were the main source of harvested organs. However, China puts to death only a few thousand prisoners annually, leaving a large supply of harvested organs unsourced. Matas and Kilgour concluded that Falun Gong prisoners of conscience were the primary source of the organ supply.
File – Indonesian Falun Gong followers carry placards during a
protest in front of U.S. embassy in Jakarta, April 19, 2006. A
group of protesters called on U.S. President George W. Bush to
raise the issue of China harvesting organs from Chinese
people during his talks with Chinese President Hu Jintao.
Documentary film corroboration
In 2015, Canadian documentary filmmaker Leon Lee won a Peabody Award for Human Harvest, which follows Matas and Kilgour as they interview patients and their family members who went to China to have organ transplant surgery.
"In Canada and America, the waiting time to receive kidneys or livers can be two or three years; most of the patients we interviewed waited two weeks at most — it was less than a month before they went to have the surgery," Lee told VOA.
Lee said investigators posing as transplant patients recorded calls to more than 100 hospitals inquiring about problems relating to organ transplant procedures. They discovered that, when asked about the source of the organs, approximately 15 percent of doctors admitted the organs were mainly from Falun Gong practitioners.
"Among the top-rated hospitals we investigated, we discovered that hospitals with an organ-transplant department had a huge growth trend in the number of organ transplants after the year 2000," he said. "We believe that this organized governmental action is widespread throughout the whole country, not private affairs conducted by an individual doctor and a public security organ."
Testimonies in exile
Before Crystal Chen came to the United States, she was twice detained by Chinese authorities who placed her in a women's forced labor camp in Guangzhou.
File – Dr. Wenyi Wang (C) holds a press conference with
others, who preferred not to be identified, in Arlington,
Virginia, April 26, 2006, about her having interrupted Chinese
President Hu during his speech at the White House in
Washington. Wang said she interrupted Hu to bring global
attention to the organ harvesting from living Falun Gong
practitioners in China.
Speaking with VOA from New York, she recalls "special health benefits" Falun Gong practitioners received at the camp.
"I remembered they performed blood tests on us Falun Gong practitioners, not just once, but regularly, and it was to prepare for a possible match," she said.
Fellow Falun Gong practitioner Ma Chunmei also completed multiple sentences in a women's forced labor camp in Jilin province before arriving on U.S. soil in 2004. One day in 2002, she was forcibly taken for bone marrow testing at a hospital, despite her otherwise perfect health.
"I knew they wanted to harm me," Ma recalled. "They performed three blood tests but gave me no results. After I was released from the camp, one of practitioners, who happened to be a doctor, told me they were doing a bone marrow test to see if my kidney was a match."
In 2002, Meng Lan was sentenced to forced labor for attending a Falun Gong event in Beijing. Her detention featured not only multiple episodes of torture by camp officials, but twice weekly blood tests.
According to Zhang Erping, a spokesman for the New York-based Falun Dafa Information Center, Chinese officials have a specific reason for targeting Falun Gong practitioners.
"When Western reporters posing as transplant patients inquired about the origins of the organs, some hospitals directly told them the organs came from Falun Gong practitioners because they exercise and are healthy so the organs are guaranteed to have no problems," he told VOA.
International condemnation
In December 2013, the European Parliament passed a motion urging the Chinese Communist Party officials to stop forced organ harvesting from prisoners of conscience.
File – Falun Gong practitioners simulate organ harvesting in a
mock Chinese labor camp in front of the Presidential Office in
Taipei, Taiwan, April 23, 2006, in protest against China's
suspected abuse and killing of Falun Gong members.
Enver Tohti, a Uighur from Xinjiang province and former surgeon, testified before the European Parliament, saying that before he left China for England in 1998, he himself conducted a live organ harvesting surgery.
One day in 1995, Tohti recalled, he was sent to an execution ground in Urumqi to harvest the kidneys and liver of a prisoner who had been shot to death. Upon cutting into the body, he found that the blood continued to circulate, indicating the prisoner was not completely dead.
"From my experience, this occurrence of this type of event is entirely possible," he said. "Before China's health care reform, when doctors lost their jobs, it was very hard for them to find another one, especially at hospitals like the railway hospital I worked at, because it is like a paramilitary unit. When the boss told you to do something, you must obey the orders."
On June 13, the U.S. House of Representatives unanimously passed a resolution urging China to stop harvesting the organs of prisoners of conscience.
However, Chinese embassy spokesperson Zhu Haiquan responded that the allegations of organ harvesting were fabricated.
The Chinese government emphasized that from 2015 onward it had completely stopped using death row prisoners to source organ transfers, and has now adopted a voluntary organ donation system.


This report was produced in collaboration with VOA's Mandarin Service.
---
China Aid Media Team
Cell: (432) 553-1080 | Office: 1+ (888) 889-7757 | Other: (432) 689-6985
Email: [email protected]
For more information, click here