Wheaton College
By Bob Fu, founder of China Aid and author of God's Double Agent (Baker Books, 2013)

■ Commencement speaker Bob Fu provides strong encouragement to the class of 2015 by tracing his faith journey from conversion to imprisonment to his work supporting the persecuted church in China today.
Q: Describe your faith background and upbringing in China.
I was born in the middle of the chaos during the Cultural Revolution. Like me, a billion other Chinese simply did not know the Christian gospel. The few churches in our province were shut down in the 1960s and 70s, and we were indoctrinated with socialism and Marxist-Leninist ideology. We were told quite plainly, "There is no god," and forced to sing a socialist anthem, which states, "There is no savior except the Communist Party." We believed that.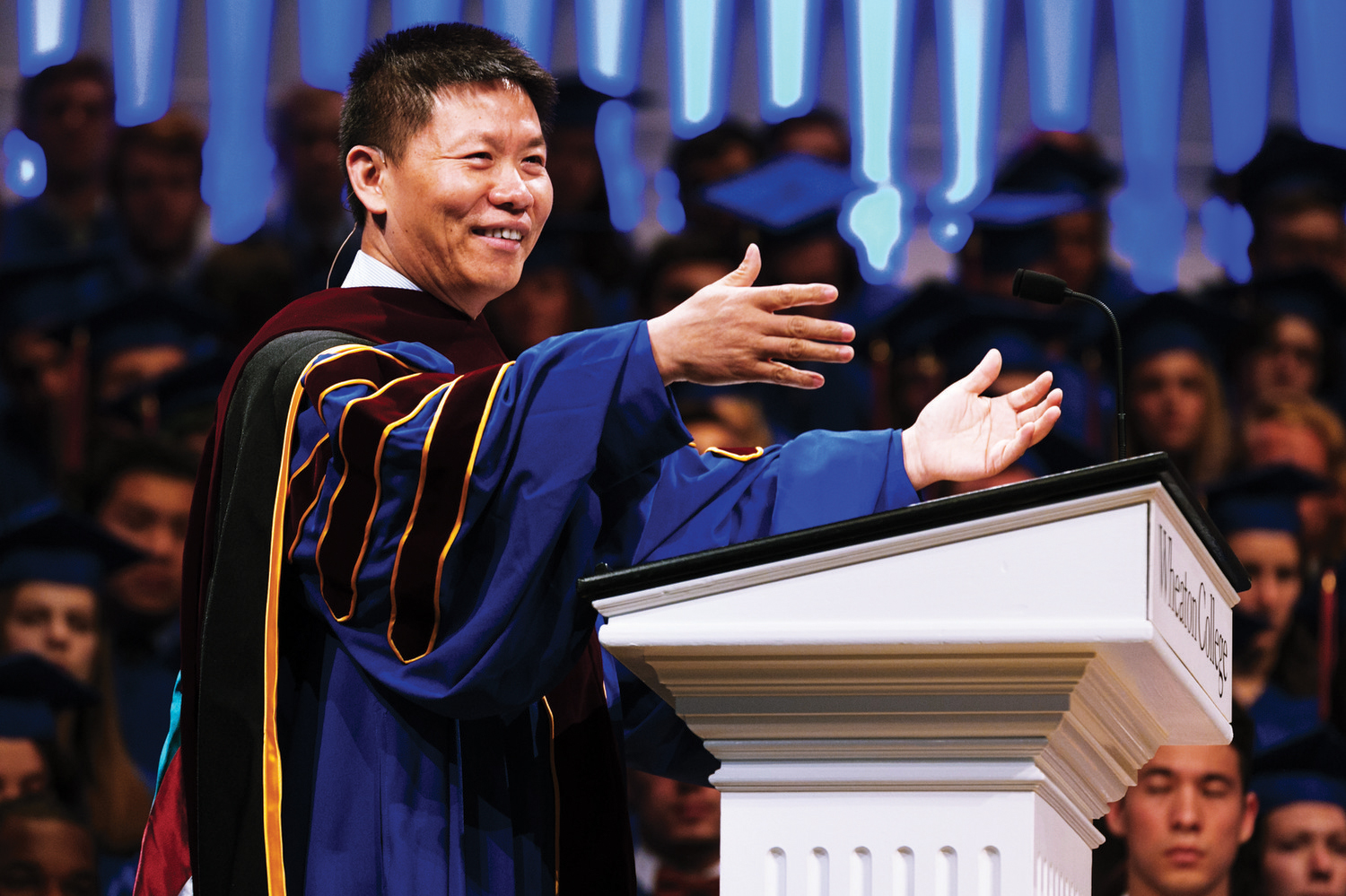 Bob Fu addresses Wheaton's Class of 2015 at Commencement.
Photo by Mike Hudson '89
Q: At what point in your life did you turn to follow Christ?
During my sophomore year of college at Liaocheng University, I participated in the student-led democracy movement that became known as the Tiananmen Square Massacre. It was a million people strong in the center of Beijing with hope placed in something called "democracy." But, at the cruel hands of martial law, the movement was crushed, and many lost their lives. I returned to campus that fall and was criticized for my role in the movement. Some of my best friends betrayed me. My academic future was dead. I fell into a deep depression, wanting to take revenge on others and even take my own life. But the Lord had other plans. He sent a small team of Christians from the United States to be teachers on our campus. One of them was a Wheaton College Graduate School student, Brent Hoover M.A. '94, with his wife, Julie, who was also our English teacher. One night in my dorm, I began reading a book they had shared with my roommate. I was up all night, and these words penetrated my heart like a light beam shining into a dark room: "If anyone is in Christ, he is a new creation. The old has gone, the new has come." Those words rocked my world. The next day, I went and told Brent, "I have seen the light." Soon I was helping reach out to my classmates. My new life began and everything changed. But I had no idea the opportunities and challenges that awaited me.
Q: How did you end up in prison?
After I graduated, my very first job was teaching English to Communist Party officials at the Communist Party Training Academy in Beijing during the day, and by night I was ministering at our underground church, even printing Bibles and starting a seminary. One day after teaching my class in 1996, I headed home, and the police were waiting for me. It wasn't the first time, but this time they arrested my wife Heidi and me and took us to prison, where they interrogated and swore at us both. For two months this went on, and we had no idea when it would ever end. It was then the words of Jesus challenged me like never before: "Love your enemies. Do good to those who hate you" (Luke 6:27, niv). The words of Paul brought great endurance to us: "Be joyful in hope, patient in affliction, faithful in prayer" (Rom. 12:12, niv). When we were released from prison, we were put under house arrest. A few months later, with the real possibility of a forced abortion, my pregnant wife, Heidi, and I made plans to do whatever we could to save our son's life. We had some hard months as refugees in Hong Kong and eventually came to the United States. Dr. Wayne Martindale HON, professor of English emeritus at Wheaton, was the first to invite Heidi and I to visit the U.S. Unfortunately, for the last 18 years, I have not been able to return to China, and that has been really hard.
Q: What words of encouragement do you have for the class of 2015?
No other generation has the head start in life that you have today. Do not waste it. Be faithful. Be present. Be salt and light. Realize that you have been given these things for a higher purpose. Learn to give back. The world is waiting with outstretched hands. What will you place into those hands? Your freedom, prosperity, and knowledge of the gospel have uniquely positioned you to carry out a faithful presence in this world that will make a difference in ways you can never imagine. As you graduate you have no guarantee of what kind of reception the world will give you. But you can guarantee what kind of response you will give the world. The lessons that you have learned while at Wheaton will have a real chance to bear fruit. And that is what Jesus wants—disciples that bear fruit in a fallen world. In Jesus Christ, we are more than conquerors. Amen.*
*This article is an adaptation of the 2015 keynote address delivered at Wheaton's graduate and undergraduate commencement ceremonies, May 9-10, 2015. View Bob Fu's full commencement address in the video below:
Bob Fu is founder and president of China Aid, a Christian international human rights organization that promotes religious freedom and rule of law in China by exposing human rights abuse, encouraging those abused, and equipping community and religious leaders in China, and is the author of God's Double Agent (Baker Books, 2013). Fu graduated from the School of International Relations at the People's (Renmin) University in Beijing, received a master of arts in religion from Westminster Theological Seminary in Philadelphia, and was awarded an honorary doctorate degree on Global Christian Leadership from Midwest University, where he has served as a distinguished professor on religion and public policy. He is currently a Ph.D. candidate at Durham University, U.K.



---
China Aid Contacts
Rachel Ritchie, English Media Director
Cell: (432) 553-1080 | Office: 1+ (888) 889-7757 | Other: (432) 689-6985
Email: [email protected]
Website: www.chinaaid.org