BBC News
By Camila Ruz BBC News Magazine
21 October 2015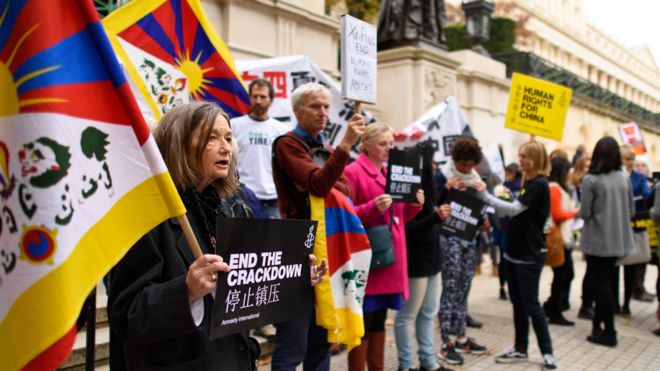 Getty Images
China's human rights record has been criticised for years. The UK government has been urged to bring up concerns during a state visit by the Chinese president. But what are the main issues?
Harassment of activists and dissidents
Human rights campaigners say that China continues to target activists and their family members with harassment, imprisonment and torture.
The government has frequently imprisoned peoplewho have spoken about politically sensitive topics. In July, there was a crackdown on lawyers who worked on cases involving free speech and abuses of power. Amnesty International says that 245 lawyers and activists have been targeted since July. One of the best known, Li Heping, is still missing.
Amnesty says there needs to be more awareness of cases such as that of Cao Shunli, a human rights activist who died in police detention last year. Her family said that she had been denied medical attention and that they had been refused access to her body. The government has denied any mistreatment, saying that the activist's "lawful rights and interests have been protected in accordance with law".
More recently, a group of feminist activists were detained as they prepared to hand out leaflets and stickers about domestic violence. Five of the women were detained for more than a month. Nobel Peace Prize winner Liu Xiaobo also continues his 11-year jail term for subversion. There have repeated called from other countries for his release. But the Chinese government has responded by saying that it is for China to decide and that "only the 1.3 billion Chinese people have a say on China's human rights".
China is often accused of heavy-handed tactics against protesters. There have been complaints over the aggressive handling of large pro-democracy protests in Hong Kong last year. Amnesty says that eight people remained in detention in September.
Persecution of people for religious beliefsImage copyrightGetty ImagesImage captionProtestants pray at an underground church
Religion is carefully controlled in China. Independent groups such as Protestant "house churches" are considered unlawful and can be raided, closed and their members detained.
Muslims in Xinjiang have also faced restrictions on their religious activities, including during Ramadan. The Falun Gong spiritual movement has been banned since 1999 and its members have been sent to labour camps and prisons,Amnesty notes.
Discrimination against ethnic minorities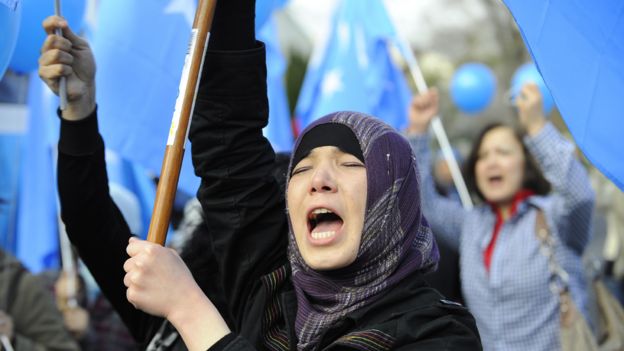 Image copyrightEPAImage captionMembers of Australia's Uighur community protest outside the Chinese consulate in Melbourne
Human Rights groups say that Tibetans, Uighurs and Mongolians continue to face discrimination and restrictions on their freedoms.
There is frequent unrest in the Xinjiang autonomous region in the far west between Chinese authorities and ethnic Uighurs, who are part of China's Muslim minority. Hundreds have died in attacks over the past three years. China said last year that the violence had forced it to launch a "year-long campaign against terrorism" and it has stepped up security in the region.
Tibet has also seen years of unrest. Human Rights Watch says that seven people set themselves on fire in Tibetan populated areas in 2014 in protest against repressive policies by the authorities. The total number of immolations since 2008is 140.
The death penalty
Amnesty says that there are more executions in China than the rest of the world combined. There are no officially published statistics but activists believe that thousands are executed and sentenced to death there every year.
Torture
People detained for political views, human rights activities or religious beliefs are at a "high risk" of torture in custody, says Human Rights Watch. A report this year said that methods used include electrocution.
There are frequent allegations of police officers using torture to extract confessions. This is despite a ruling by the Chinese Supreme Court that forbids using "freezing, starving, extreme heat, fire branding or extreme exhaustion" on suspects.
Secrecy on Tiananmen Square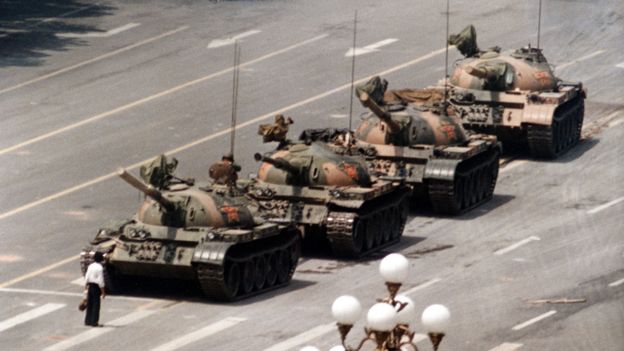 Image copyrightAPImage captionJune 1989: A solitary man tries to block a line of tanks in Tiananmen Square
It has been 26 years since several hundred people died in a crackdown on democratic protest in China's Tiananmen Square.
Activists say that calls for a proper investigation into events on 4 June 1989 have been ignored. Human Rights Watch says that discussions about it remained censored and that the truth of what happened is withheld from people in China.
Internet and media freedom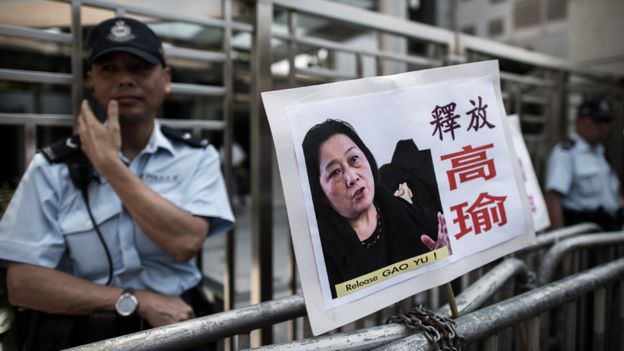 Image copyrightGetty Images
There are tight restrictions on the press in China and several leading journalists have recently had criminal charges brought against them. Gao Yu, 71, was jailed in April on suspicion of "illegally disseminating state secrets internationally". Amnesty International called the sentence "an affront to justice".
For years China has also sought to limit access to foreign TV and publications. The government blocks hundreds of websites and has targeted users of apps such as WeChat. Censors also target Chinese social media. They deleted mocking comments about a World War Two military parade this year.
Labour rights
Independent trade unions are illegal in China. But there have been many disputes over low wages, poor working conditions and the treatment of migrant workers. Striking workers often face intimidation and arrests.
Family planning
China famously introduced a one-child policy in 1979. Campaigners said that it led to forced abortions, female infanticide and a gender imbalance in the country. There has been a formal easing of the policy but rights groups say that women's reproductive rights are still under heavy control of the state.
Lack of land rights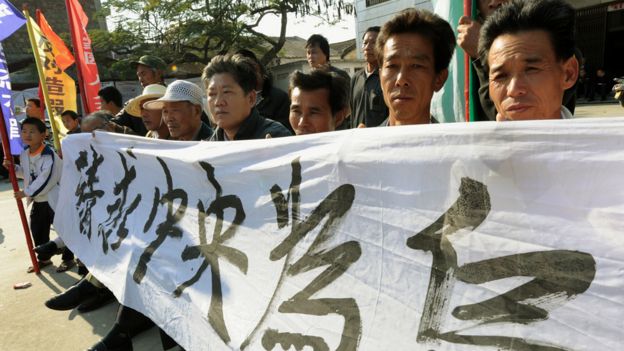 Image copyrightGetty ImagesImage captionDecember 2011: Villagers protest in the southern province of Guangdong, after the death in custody of a local leader on 19 December, 2011
Protests erupted in 2011 in a village in the southern Guangdong province over land taken from villagers by the local government.
Disputes like this are not unusual in China. All land is effectively owned by the government and farmers are allocated areas for set amounts of time. Villagers often accuse local officials of taking their land without giving them any compensation. And of using violent tactics to quash their protests.
Mental health and disabilities
China has been criticised for its treatment of people with disabilities. Human Rights Watch has called protections "inadequate" and says that people face serious discrimination in employment and education. Campaigners say that some efforts have been made to address this. In 2014 it was announced that China would allow Braille or electronic university entrance exams. But Human Rights Watch says that there are still problems with the practicalities.
The Mental Health Law says that hospitalisation should be voluntary except in cases where individuals pose a danger to themselves or others. But campaigners say that there are still loopholes in the law. A woman called Gu Xianghong was detained in a Beijing psychiatric hospital for five weeks after petitioning the authorities, Amnesty said.
---
China Aid Contacts
Rachel Ritchie, English Media Director
Cell: (432) 553-1080 | Office: 1+ (888) 889-7757 | Other: (432) 689-6985
Email: [email protected]
Website: www.chinaaid.org