By Beijing bureau
4 July 2016
[
Note: Please visit the BBC's website, linked above, to view videos accompanying this article.
]
■ It's been one year since China launched what appeared to be an orchestrated campaign, detaining and interrogating hundreds of human rights lawyers and activists.
Many lawyers have since been released – but several remain in detention, with their wives and families denied access to them.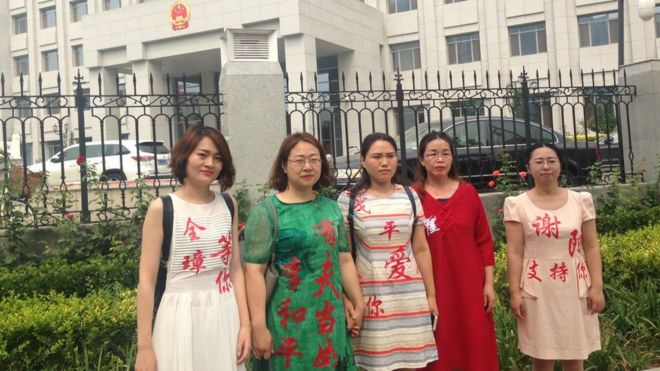 Wives held a protest, with messages to their husbands such as "waiting for
you" or "I support you", stuck in red on their dresses
Li Wenzu
Over the past year, several of the wives have held small-scale protests outside the detention centre in Tianjin, a city near Beijing where the lawyers and activists are held – but none of the protests brought any change.
On the morning of 4 July, four wives of human rights lawyers, two wives of activists, along with six lawyers and several diplomats from countries including the UK and Germany, went to the Supreme People's Procuratorate, the top prosecutor's office in Beijing, to accuse the Tianjin Public Security Bureau and Tianjin Procuratorate of barring them from seeing their husbands.
"For one year, we've heard nothing about our husbands except an arrest notice. I'm worried about his health, I wish he could get back home soon," Li Wenzu, wife of Wang Quanzhang, told the BBC.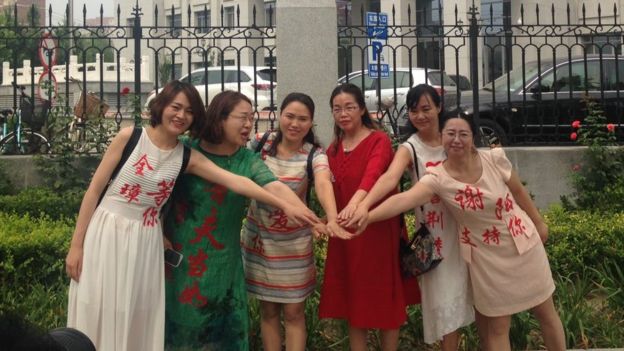 "For one year, we've heard nothing about our husbands except
an arrest notice," one wife told the BBC
Li Wenzu
Mr Wang is a well-known Chinese human rights lawyer who once defended practitioners of the Falun Gong spiritual movement. He was charged with subversion of state power in January.
"It is horrible that a man could be missing in such way. I've been trying to talk to the authority, trying to find out the whereabouts of my husband, but the police keep telling me they know nothing. I am so desperate," Li Wenzu said.
Wang Qiaoling, the wife of another arrested lawyer, Li Heqing, told the BBC that the Tianjin Public Security Bureau and Tianjin Procuratorate were secretly holding their husbands.
However, the top prosecutor in Beijing refused to receive any documents provided by the wives, and asked them to speak to the authorities in Tianjin instead. Diplomats were not allowed into the procuratorate.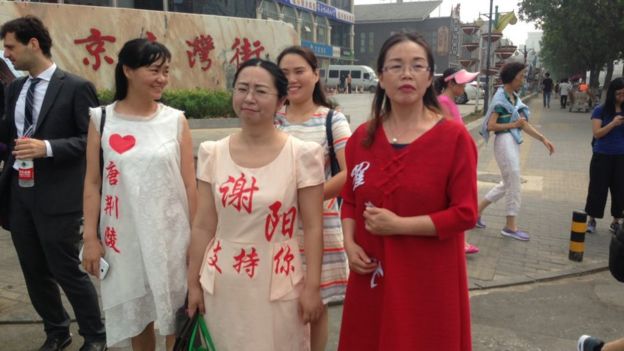 The women were accompanied by lawyers and foreign diplomats
Li Wenzu
Before entering the building, the wives printed out their husbands' names and stuck them to their dresses. They also stuck slogans like "waiting for you, Quanzhang" and "I support you Xie Yang".
Liang Xiaojun, lawyer to Xie Yanyi, one of the detained lawyers, told the BBC that police cars were lined up outside the prosecutor's office upon their arrival on Monday morning, and plain clothes police officers filmed them as they spoke.
"We are figuring out what to do next," he said.
Since 9 July 2015, the Chinese authorities have detained and questioned more than 200 human rights lawyers and activists. Some have been formally arrested and are facing charges like subversion of state power, which may lead to a life sentence.
---
China Aid Media Team
Cell: (432) 553-1080 | Office: 1+ (888) 889-7757 | Other: (432) 689-6985
Email: [email protected]
For more information, click here