The Guardian
By Tom Phillips in Beijing
Friday 4 September 2015 04.24 EDT
Beijing-based attorney Zhang Kai was seized by security officials after offering legal support to churches battling a controversial church cross demolition
A Chinese human rights lawyer who disappeared into police custody last month after joining the fight against a government drive to take down church crosses could face spying charges.
Zhang Kai, a Beijing-based attorney, was seized by security officials on 25 August in Wenzhou, a city in the eastern province of Zhejiang sometimes referred to as China's Jerusalem because of its large Christian population.
Zhang had been in Wenzhou offering legal support to churches battling a controversial Communist party demolition drive that has targeted Christian places of worship since late 2013.
Writing on Weibo, China's Twitter, two weeks before his detention, Zhang said: "I have thought it through: at worst they can put me in jail. But if I keep silent, I will regret it for the rest of my life."
Christian activists claim the removal of more than 1,200 crosses – and the complete demolition of some churches – in Zhejiang is a deliberate attempt to slow the growth of their faith. There are now estimated to be as many as 100 million Christians in China, a reality the 85 million-member Communist party appears to find increasingly concerning.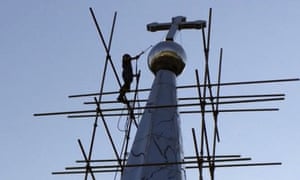 A cross atop the Lower Dafei Catholic church topples after
being cut down by a Chinese government worker in eastern
China's Zhejiang Province in July.

(Photo: Didi Tang/AP)
A notice from Wenzhou public security officials that was published on social media said Zhang – whose whereabouts are not known – was being held on suspicion of two crimes.
The first is "gathering and disturbing social order", while the second, and potentially more serious, charge is "stealing, spying, buying and illegally providing state secrets and intelligence to entities outside of China".
Joshua Rosenzweig, an expert in human rights and criminal justice in China, said the maximum penalty for the latter charge was death, "but only under the most serious conditions which I have to presume do not apply here".
Rosenzweig said charges related to "endangering state security" enabled the police to hold a suspect in a place of their choosing for up to six months without having to notify anyone of that location. It also allowed police to deny their suspect access to legal counsel.
"This raises the possibility of tactical use of state security charges that can be later dropped," Rosenzweig said.
In 2003, Zheng Enchong, a Shanghai-based rights lawyer, was jailed for three years for allegedly providing state secrets to entities outside of China. He was accused of sending a copy of a Chinese report about forced demolitions to a human rights group in New York.
Yang Xingquan, who works at the same Beijing practice as Zhang, said it was not clear why authorities had levelled the same charge at his colleague but insisted he was innocent. "I have faith in Zhang Kai. I don't think he would gather people and disturb social order. Nor do I think he would steal state secrets."
Zhang, who like many of China's human rights lawyers is Christian, had been an outspoken critic of the cross removals.
In March he posted an online essay denouncing the Communist party's treatment of Chinese churchgoers. "I believe it is God's calling and a compelling and historic mission for today's Christian lawyers to seek justice and promote reconciliation and the rule of law," he wrote.
"People always ask me, what is the political environment going to be like this year? Will there be more oppression against churches? I want to answer with words from the Bible. 'Suffering produces perseverance; perseverance, character; and character, hope.' We should thank God for having been born in China in this era."
Zhang had reportedly been due to meet with David Saperstein, the United States' ambassador-at-large for religious freedom, around the time he was detained.
Saperstein visited China in late August and travelled to Zhejiang province where he called for "an end to the ongoing campaign of cross removals and church demolitions … and an end to harassment of members of unregistered religious groups".
Yang Xingquan said Zhang Kai's faith would help him cope with his detention. "He is a Christian and he can bear the stress and stay strong," he said.
Speaking on Tuesday, US State Department spokesman Mark Toner for Zhang's release and said the lawyer's detention was "indicative of an ongoing pattern that we've seen" in China.
called
More than 20 people remain in custody following an unprecedented crackdown on human rights lawyers that began in July.
They include Wang Yu, a 44-year-old Beijing lawyer who has not been seen since she was taken from her home in the early hours of 9 July.
"Nobody is safe under a dictatorship," Wang told a visitor to her home earlier this year.
Additional reporting by Luna Lin


---
China Aid Contacts
Rachel Ritchie, English Media Director
Cell: (432) 553-1080 | Office: 1+ (888) 889-7757 | Other: (432) 689-6985
Email: [email protected]
Website: www.chinaaid.org