The Guardian
By Terence Halliday
Tuesday 7 June 2016 22.24 EDT
Last modified on Tuesday 7 June 2016 22.34 EDT
■ Li is a top human rights lawyer who nearly a year ago slipped into a netherworld of the disappeared after a political crackdown
On 10 July last year, just days after we had met for lunch in an upscale Beijing shopping mall, my friend Li Heping vanished.
During our last encounter, Li, calm and thoughtful as ever, told me he believed China's government was losing the trust of the people. More and more people were victims of injustice. And fewer and fewer people could see injustice being corrected. The government would seek to destroy even his own small informal anti-torture organisation, Li predicted, as they saw it as a challenge to their monopoly on power.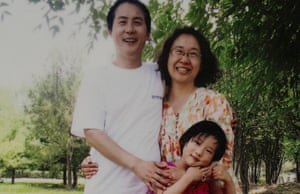 A photo of imprisoned lawyer Li Heping, hi wife Wang
Qiaoling and daughter Li Jia We at home in Beijing.
Photograph: Adam Dean/The Guardian
Li Heping is one of China's top human rights lawyers, a man who dedicated his life to standing up for the weak and disenfranchised. The son of farmers, he rose from rural poverty to become one of the leading lights of his country's 'rights defence' movement.
But years of legal activism transformed Li, a committed Christian and father-of-two, into an enemy of the state. As a Chinese security agent once told him, in the eyes of Beijing Li had become "more dangerous than Bin Laden".
Since Li was taken during last July's crackdown on human rights lawyers he has slipped into a netherworld of the disappeared. It is a hidden realm where no family, lawyers or overseas diplomats can reach detainees; a darkness where no light of accountability penetrates; a place where, as Li himself once told me, torture is highly likely. He should know. Having beenabducted in 2007, he has been there before.
Li's fate, and that of the many notable lawyers who've accompanied him into this limbo – including his 24-year-old female assistant Zhao Wei – is the most striking evidence yet that China's top leaders are abandoning a peaceful path to a rule of law society where a constitution, law and lawyers can protect the most basic freedoms denied China's citizens.
Such lawyers insist on peaceful evolution and political transitions in China through the strengthening of law and the constitution, of civil society and individual responsibility. Yet China's leaders have responded with fear and force, coercion and torture, disappearances and imprisonment.
If peaceful channels for change are blocked, what alternatives to change are offered the hundreds of millions of aggrieved Chinese who have been left behind in the rush to riches?
Some years ago I asked Li whether he believed Christians should forgive even those who persecuted them. "I think that basically we have to forgive police and government officials for the harms they do us and their misconduct," he replied.
After almost one year of disappearance, solitary confinement, likely torture, and little hope of legal redress or mercy, Li's courage and convictions are under the severest pressure. China's future may well depend on whether forgiveness and love, mercy and humility will prevail over brutality and force, repression and fear.
"Chinese say that they are living inside a prison," Li once told me. "If you are detained, you are in a smaller prison. If you are released, you are in a bigger prison."
The way China's security apparatus and leaders treat this courageous attorney and his colleagues will tell the world much about whether a future China will be a nation of prisoners or of persons free from want and fear, free to speak and worship, free to affirm their human dignity.


Terence Halliday is an American Bar Foundation scholar. He is the co-author with Sida Liu of a forthcoming book called 'Criminal Defense in China: The Politics of Lawyers at Work'
---
China Aid Media Team
Cell: (432) 553-1080 | Office: 1+ (888) 889-7757 | Other: (432) 689-6985
Email: [email protected]
For more information, click here