The Guardian
Tom Phillips in Beijing
Monday 11 January 201600.16 EST
Last modified on Monday 11 January 201600.18 EST
■ Li Heping was taken from his home in July and has not been seen since along with dozens of other attorneys amid a crackdown on dissidents
Six months after her husband was spirited into secret detention by security forces, the wife of one of China's top civil rights lawyers has spoken of her grief and despair.
Li Heping, a 45-year-old attorney, disappeared on 10 July last year after security officials came to his home at the start of what activists call an unprecedented government crackdown in which more than 240 lawyers and activists were detained or questioned.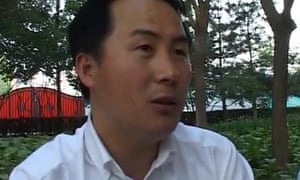 Li Heping, a well-known human rights lawyers, has been
missing in China since 10 July 2015. 'I never thought this
country could be so corrupt,' his wife said.
Photograph: Supplied
Exactly six months on, up to 35 lawyers and activists, including Li, are still missing or in custody, according to the Hong Kong-based China Human Rights Lawyers' Concern Group which has monitored the government offensive.
"There isn't any information. We haven't received any kind of notice or correspondence from the government," complained Wang Qiaoling, Li's 44-year-old wife. "I never thought this country could be so corrupt."
In the days following Li's disappearance, two Chinese lawyers launched a Kafkaesque mission to locate the missing attorney, travelling to police stations and detention centres across northern China where they suspected he was being held.
In recent weeks, the husbands, wives and children of the missing lawyers have joined that so far fruitless hunt for answers.
On Friday, almost exactly six months after Li vanished, Wang Qiaoling made her latest such trip, to a detention centre in Tianjin, a city about 70 miles from Beijing, but again came away empty handed.
"So many lawyers have been taken away," she said. "Conscientious people have been cracked down upon. I have no words to describe this kind of behaviour."
Born in Henan, one of China's most deprived provinces, Li Heping became a leading member of the country's "weiquan" or "rights defence" movement and a major thorn in the government's side.
"What these lawyers did was help ordinary people address their grievances and escape false charges," his wife said.
"These days in China we always say that if an elderly person falls over nobody goes to help them. What these lawyers do is like trying to help the elderly but the government stops you from doing that. And what's more, if you do try to help them, you will be beaten. If you try to help them, you will be arrested. It is totally unscrupulous."
Li was known as one of China's most courageous rights lawyers, defending a series of politically sensitive clients including environmentalists, dissidents and the blind activist Chen Guangcheng.
But that work brought the devout Christian into frequent conflict with authorities. On 10 July last year, day two of a major roundup of rights lawyers, he was seized at his family home in Beijing.
Maya Wang, a Hong Kong based activist for Human Rights Watch, admitted Li's location remained a complete mystery.
"His particular detention status is: we don't know," Wang said on Monday, as the six-month deadline for authorities to charge or release the missing lawyer expired without word on his situation. "There is basically no information whatsoever about what his status is."
Wang said Li – and other missing lawyers such as Wang Yu and Bao Longjun – were likely being held in a shadowy form of detention called "residential surveillance in a designated place".
Under that regime, prisoners were kept in solitary confinement, deprived of access to their relatives and lawyers, and, activists fear, were often vulnerable to physical or psychological torture.
"Li Heping's case really illustrates the lawlessness of this entire crackdown," Wang, the Hong Kong activist, said. "We have a very prominent human rights lawyer … who just completely disappeared and no news whatsoever has ever been heard from him. His case is a blatant violation of Chinese law."
Wang said the ongoing detentions showed that while president Xi Jinping had vowed to strengthen the rule of law since taking power in 2012, in fact the law had simply become "a tool of the [Communist] party against civil society".
"It's really quite disheartening," she added.
In an essay marking the six-month anniversary of the disappearances, King's College London scholar Eva Pils, who knew many of the missing lawyers, wrote: "Their absence is keenly felt. It does diminish the vibrancy of China's human rights movement; and I know that unfortunately, some part of a person who 'went in' may never be back."
Wang Qiaoling, Li Heping's wife, said the difficulties of raising two children alone paled in comparison to the emotional cost of losing her husband.
"My heart is broken," she said. "My family has been taken away."
---
China Aid Contacts
Rachel Ritchie, English Media Director
Cell: (432) 553-1080 | Office: 1+ (888) 889-7757 | Other: (432) 689-6985
Email: [email protected]
Website: www.chinaaid.org