The Guardian
By Tom Phillips in Beijing
Thursday 27 August 2015 04.58 EDT
Last modified on Thursday 27 August 2015 19.40 EDT
Chinese security forces have launched a roundup of church activists who opposed a Communist party campaign to remove crosses.
"At least nine people I know have been taken away by the police and that figure is still rising," a church leader in the eastern province of Zhejiang – the operation's focus – told the Guardian on Thursday afternoon.
"We think it is a campaign targeting church leaders across the province. It can only be a co-ordinated action initiated by the provincial government."
Among those understood to have been detained is Zhang Kai, a prominent Beijing human rights lawyer who had been offering legal support to a number of churches in the region.
Friction between the Communist party and the church has been building in in Zhejiang since late 2013 when authorities initiated a demolition campaign that they said targeted illegal buildings.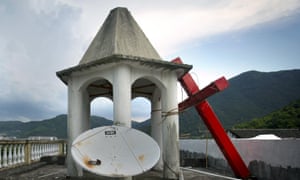 A cut-down cross on a church roof in Zhejiang province.

(Photo: Mark Schiefelbein/AP)
So far more than 1,200 crosses have been removed, activists say. Several churches have been completely demolished, including the Sanjiang mega-church in Wenzhou, a city known as "China's Jerusalem" because of its large Christian congregation.
In recent months there have been series of protests against the intensifying campaign, with one Catholic leader denouncing the cross removals as an "evil act".
Authorities appear to have been angered by the growing pushback. This month China's government-controlled media warned Zhejiang's Christians not to resistthe removals or to speak out to foreign journalists.
On Tuesday a wave of detentions – apparently designed to extinguish any further dissent – began. Plainclothes officers arrived at the homes of their targets with a list containing the names and photographs of local Christians, the church leader said.
"They said people who were taken away would be put under residential surveillance," the pastor said. "We are all very angry. They didn't inform people what charges they were being held on and they didn't produce any documents. There are people outside my house. I know if I go out they might arrest me too."
Zhang Kai, known for his work defending underground Christians, was seized in the early hours of Tuesday, activists told RFA, a US-funded news organisation.
"They did it on the quiet, in the middle of the night," a church member said. "They didn't tell anybody in our church that this would happen. By the time we got there, he had already been taken away."
William Nee, Amnesty International's China researcher, said his group was monitoring the "very worrying" situation in Zhejiang.
"Zhang Kai's case is incredibly important because it represents the intersection of China's unprecedented campaign against human rights lawyers and the ongoing campaign against Christianity and other unauthorised forms of religious expression," Nee said.
Since July, some of China's most respected civil rights lawyers have been detained as part of a sweeping crackdown. They include Li Heping, 45, and Wang Yu, 44, whose whereabouts are still unknown.
In an email, Bob Fu, a US-based Christian activist, attacked the wave of detentions. "The persecution in Wenzhou has entered into a new phase," he said.
The church leader said Zhejiang's Christians would not be cowed by the police operation. "We are not intimidated by their tactics. We have not done anything wrong or against the law. Our actions are all restrained and reasonable while theirs are shady."
Additional reporting by Luna Lin
---
China Aid Contacts
Rachel Ritchie, English Media Director
Cell: (432) 553-1080 | Office: 1+ (888) 889-7757 | Other: (432) 689-6985
Email: [email protected]
Website: www.chinaaid.org